Costume Design has been a competitive category since the 1940s, one of the oldest artistic realms the Academy has recognized. In fact, when it first began there were two separate awards for movies in color and those in black and white. The other odd mainstay in this particular category is that modern settings basically never win. When there were two separate categories, you tended to see modern films (for the time) win in the black and white category, as the trick with the costume design was making it stand out despite the shades of grey, which allowed for wins for films like Whatever Happened to Baby Jane?, Roman Holiday, and the films of Federico Fellini.
Since the category was merged in 1967, however (there were two years in the 50s with singular winners as well), the vast majority of the category's winners have been period pieces (Renaissance to mid-20th Century) or fantasy films like Alice in Wonderland or Lord of the Rings, and even those are set in parallels of bygone time periods. The only modern winners that weren't specifically set in the or a past are The Adventures of Priscilla, Queen of the Desert, which featured drag queens in varying degrees of fabulousness, and Mad Max: Fury Road, which is set in some dystopian future desert environment.
This year, all five nominees take place in the past, though two of them are also fantasies. Sometimes that helps elevate the profile, as the costume designer has two realms from which to draw inspiration. The other bit of intrigue this year is the relative resumes of the nominated designers. We have previous winners, previous nominees, and one newcomer to the group. Also, in a move that's only happened one other time this century, one of our nominees is up for two different movies.
This year's nominees are:
Jacqueline Durran – Beauty and the Beast
The first of Jacqueline Durran's nominations this year is honestly somewhat confusing. Putting aside the fact that the movie – despite box office sales – isn't very good (seriously, the only thing this movie added to the original was 40 minutes of runtime; it was the worst movie I saw last year, and I only watched it on Netflix in anticipation of this very nomination), the bulk of the costume designs were just live-action versions of the animated outfits from 25 years ago. A few new characters were added, along with a masquerade ball in the opening sequence that required new designs, but given that the Academy rules say the costumes must be "conceived" by the costume designer, this nomination would seem null and void. Almost nothing here was conceived by Ms. Durran, merely copied from a cartoon from 1992. The costumes themselves aren't bad, but they're almost completely unoriginal, which means they shouldn't be seriously considered. And even if this wasn't a remake, half the "costumes" are on CGI characters, which don't count.
Jacqueline Durran – Darkest Hour
Now this is more like it. Durran has six total nominations in this category (including the two this year), and is a previous winner for her work on Anna Karenina. And in the WWII biopic Darkest Hour, she really gets a chance to shine. Part of the challenge with this film isn't just a 1940s aesthetic, but designing costumes that fit in with the lighting schemes. One of the interesting artistic choices with the cinematography was to have several scenes that take place in the dark. I'm not just talking dim rooms or red-light hallways (though those are also on display in spades), but I mean scenes that apart from Winston Churchill are in total darkness, like when he takes a lift up from his war room bunker to the 10 Downing Street residence. In scenes such as this, as well as some scenes in Parliament with strategic spotlights, Churchill is the only person truly visible on screen. As such, Durran's task is to make him stand out even more than he would with his oratorical skills alone. Churchill has to truly be seen and heard. This works especially well in the Parliament scenes, as hundreds of MPs are given proper outfits, but the rotund, bombastic Churchill still commands 100% of the attention, thanks to the combination of the lighting and the costuming.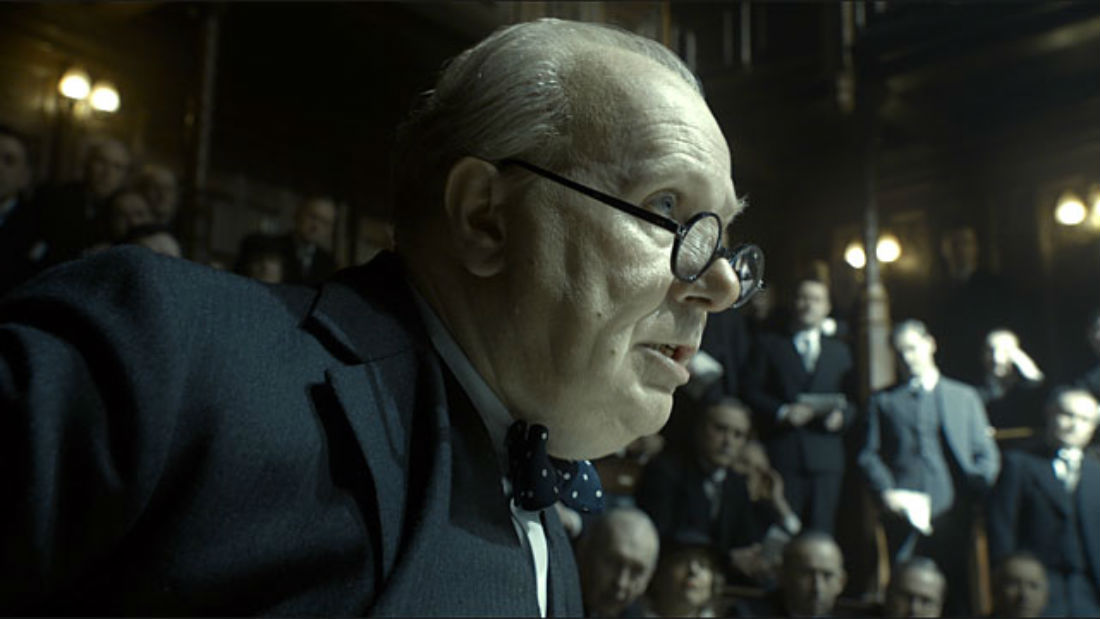 Mark Bridges – Phantom Thread
It almost doesn't seem fair, does it? Could there be a more tailor-made (sorry) entry for this category? I mean, it's a Costume Design award for a movie about a guy who makes dresses, for God's sake! This category should already be sewn up, right (sorry again)? Still, this is a fair competition, and we have to give weight to everyone and see what is truly the best fit (last one, I promise). What makes Phantom Thread work from a costuming standpoint is the meticulous nature of its lead, Reynolds Woodcock. It's established in the film's opening montage how exacting he is in his routines, from the way he likes his breakfast made to the rhythmic back strokes of twin brushes through his hair. It's not just the dresses he makes, but his own personal carriage, whether in a casual vest or a tuxedo. He also has a habit of sewing things into the seams and lapels of his work, which was featured heavily in the trailers but becomes a minor talking point in the film. Still, it speaks to the precise nature of the work. And Mark Bridges definitely worked overtime on these designs, creating beautiful dresses for Woodcock's muse Alma, as well as the functional clothing of the characters in their day-to-day lives. There's also a fun exchange of dialogue where Woodcock has a tirade against the concept of "chic," which I have to think Bridges had input on. It's either perfectly written or expertly inserted. Either way, it keeps the viewer in the exact mindset needed to appreciate the clothing on display throughout the film. Bridges has previously won an Oscar for his work on 2011 Best Picture winner, The Artist. It's hard to argue against another win here.
Luis Sequeira – The Shape of Water
If there's an upset to be had on Mark Bridges' work, than relative newcomver Luis Sequeira might be the one to do it. Much of Sequeira's work has been in television (The Strain) and horror movies (Mama), so he's perfectly suited for this homage to classic Hollywood monsters. But of course, the achievement isn't just in the monster, it's everything on the periphery as well. Set in the Cold War era, Sequeira's work encompasses the uniforms worn by the scientists and maintenance crew at the aquarium (including Sally Hawkins' leading mute Eliza), the G-men led by Michael Shannon, neighbor Giles, the diner workers and patrons, and THEN we get to the HOLY SHIT CREATURE FROM THE BLACK LAGOON WITH A RETRACTABLE WANG! Thankfully we don't see that specific part; we just know about it from Eliza's creative use of sign language. But still, the creature is something to behold, as once again character actor Doug Jones (not the Alabama Senator – BTW, way to go not electing a pedophile this time, Bama!) is able to become a truly imaginative spectacle. Part of it is down to his performance, but Sequeira truly made the concept come alive.
Consolata Boyle – Victoria & Abdul
Our final nominee has a bit of a flair for royalty and high society as it pertains to women of a certain age, as her previous nominations in this category are for Florence Foster Jenkins and The Queen. This film also represents a branching out for her, incorporating Indian costuming, both for common use and for theatricality. It's a great contrast to see the typical Victorian garb for the royal family juxtaposed with Abdul's more flamboyant wardrobe inspired by both his station in the Queen's household and his own traditions. There's also a strong clash to be had between Victoria constantly wearing darker tones and even black, while Abdul's color scheme is typically brighter, even if he's wearing darker overall colors. It works to make him even more conspicuous to the members of the royal house who can't stand him. The more they hate him, the more boldly he stands out from the others as his esteem rises in Victoria's eyes. It's a very clever progression that's easy to miss, but makes you smile once you see it.
My Rankings:
1) Phantom Thread
2) The Shape of Water
3) Victoria & Abdul
4) Darkest Hour
5) Beauty and the Beast
Next up: The Adapted Screenplay category pits a Best Picture nominee against four also-rans looking for some well-earned recognition!
Join the conversation in the comments below! What film did you think had the prettiest dresses? Will Jacqueline Durran win with either of her nominations? Are you still picturing the sea creature's penis? Let me know. Also, as always please note that all photos are from Google image searches and are not owned by me, nor do I profit from them in any way. No sue!