For some reason, this is still the only category that defaults to three nominees instead of five. I honestly don't get it. There are plenty of talented artists throughout the film industry who do incredible makeup work on a daily basis. I'd understand if once in a while there were only a few worthy films to consider, in which case do three, like is occasionally done with Original Song or Animated Feature. But you'd have a hard time convincing me that year in and year out you can't find five potential nominees.
That said, if this year's crop is any indication, maybe three is the way to go, as really only two of the nominees are any good. Given the shortlist of seven, I could easily have gotten five nominees without including one of the three that actually got a nod. What does all this mean? At this point, I don't know, and I've got "The Lumberjack Song" stuck in my head, so let's get on with it.
This year's nominees for Makeup & Hairstyling are:
Border – Göran Lundström and Pamela Goldammer
Sweden's submission for Foreign Language didn't even make the shortlist, and honestly, rightfully so. This movie is weird in the extreme. What begins as a story about a very ugly woman with an uncanny ability to detect smugglers and contraband at Customs takes a very odd turn into a fantasy movie about the existence of trolls, the government's efforts to conceal knowledge of them, and really really gross troll sex.
That said, the makeup job necessary to make the two leads believable as trolls is amazing. The sloping brows, the crooked teeth, the prosthetics applied to each of them for the scenes of VERY graphic nudity? It all comes together to create two incredibly unique looking characters. Sweden has a bit of history in this category, with recent nominations for The 100-Year-Old Man Who Climbed Out of the Window and Disappeared and A Man Called Ove. The previous two didn't get the win, but I'd have no problem with the Three Crowns taking home the gold here.
Mary Queen of Scots – Jenny Shircore, Marc Pilcher, and Jessica Brooks
Just like the nomination in Costume Design, one of the artists – Jenny Shircore – already has an Oscar win for work on the Cate Blanchett films about the Virgin Queen, in this case Elizabeth. And in light of that, it makes the nomination here all the more baffling, because she clearly knows how to make Queen Elizabeth I look like a compelling and commanding leader, yet in this film, Elizabeth is almost a de facto villain, and as such is made to look ugly.
There really aren't too many examples of notable makeup work in this film beyond making David Tennant look like racist Dumbledore and one particular scene where Elizabeth is covered in pancake makeup to cover up her horrible pock marks from her bout of plague or something. And while it's certainly memorable, it's by far not superlative. Margot Robbie is made to look less like Elizabeth I and more like Pennywise the Clown. Given this lack of comparative material, I'm surprised this film got nominated instead of, say, Stan & Ollie or Bohemian Rhapsody. That said, painting Margot Robbie's face white was enough to get an Oscar in this category for Suicide Squad, so what the hell do I know?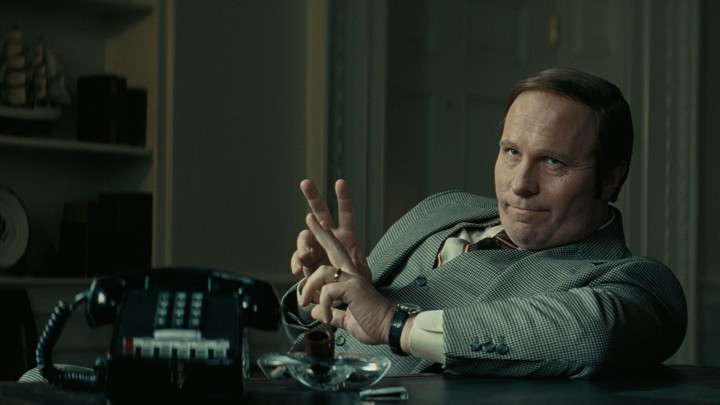 Vice – Greg Cannom, Kate Biscoe, and Patricia Dehaney
Greg Cannom is a seasoned veteran in the makeup department, with nine Oscar nominations to his credit, including three wins, for Mrs. Doubtfire, Bram Stoker's Dracula, and The Curious Case of Benjamin Button. Suffice to say, the man knows how to transform actors via prosthesis.
So naturally, Vice would be right up his alley. Using prosthetics to transform Christian Bale into Dick Cheney would almost seem old hat to him after turning Robin Williams into a British nanny. The challenge here is verisimilitude. It's not enough to make Christian Bale himself unrecognizable, he also has to make sure that he genuinely looks like Cheney rather than a caricature. On top of that, the body suit and the makeup had to evolve over the course of more than 30 years of Cheney's life. The main criticism is that beyond Bale, there's really not much to speak of. Sam Rockwell looks a bit like George W. Bush, and Amy Adams wears a blonde wig, but that's about it.
* * * * *
If anything, it's a bit of a weakness for the entire field that in each film the sample size is limited to one or two leads. What breaks the tie for me is that in one film's case, the makeup job truly drives the plot, whereas with the other two it's just making over a character.
My Rankings:
1) Border
2) Vice
3) Mary Queen of Scots
Next up: We go through the motions and pretend Lady Gaga's not going to win an Oscar. It's Original Song!
Join the conversation in the comments below! Which film gets your vote? What was the best makeup job you saw last year? Did the left field Monty Python reference jar your nerves, or do you have the song stuck in your head now as well? Let me know!