We've come to it at last, folks. The award to end all awards, the one win to rule them all. It's time to take all the laughs, tears, analysis, and petulant bitching and lump it all together to see which nominee should win Best Picture less than a mere 48 hours from now.
And because I can never just do things easily, this is not going to be a simple listing of my preferences for the nominees. According to the Academy, a whopping 347 feature length films were submitted on the General Ballot, which includes all the major categories, Best Picture top of them all. Over the course of 2018 and early 2019 for Blitz purposes, I saw 126 of them. For what it's worth, here's how I rank the nominees in terms of pure enjoyment, with their overall ranking in last year's viewings in parentheses.
1) The Favourite (7)
2) Bohemian Rhapsody (13)
3) Black Panther (14)
4) BlacKkKlansman (17)
5) Green Book (22)
6) Roma (25)
7) Vice (36)
8) A Star is Born (81)
This is a fairly typical breakdown of how much I like the Best Picture nominees. Usually every year there is at least one or two films that I just don't feel belong in the conversation for the award. This time it's clearly A Star is Born, which I still liked, but not nearly to the degree that I liked the other seven.
But I didn't just slog through the last five weeks to simply say, "I like these" and leave it at that. If you've read this blog at all over the last year plus, you know me better than that.
As I mentioned in a previous breakdown, Best Picture ostensibly means "Best Production," because the actual Oscar goes to the listed Producers of the film. Basically the entire above-the-line crew celebrates on stage when the movie wins, but it's really the one to five people in charge of the production who get the statues.
As such, I decided to weigh the nominated films against each other on the basis of the major production areas: Acting, Directing, Writing, Technical Aspects, Design Aspects, and Music. I did an apples-to-apples comparison (or as close as I could) with all eight films in all these general areas, ranking them from first to last in each. I then assigned a reverse point score (first gets eight points, eighth gets one point, and everything in between) to the nominees in each area. Finally, I weighted these five aspects based on how crucial I believe they are to the enjoyment of the viewing experience. Acting counts for three times the score, as the on-screen performances are the primary thing we see. Directing and Writing each count for a double score, as they are the most important elements behind the camera. The other three areas each count only once. This leads to a 10-scale system where the highest possible score is 80, assuming a film could be ranked first in all aspects.
For the major areas, I used the rankings I've already published in previous blogs, slotting in films that weren't nominated in certain areas based on my personal preference. Also, there was no automatic ranking for the sheer number of nominations in the acting categories. For example, BlacKkKlansman only received one acting nomination, but I feel it is a much better acted film than Roma, which has two nominations, so it ranks higher. For the single score areas, I gave films two points if they got nominated, and a reverse one through five score for where I ranked them. If a film didn't get nominations in the tech or design categories, then that counts against them in the final tally. Any ties (both in individual areas and overall), I simply broke by personal preference based on my year-end rankings.
Why did I do all this? Partly because I obsess over this shit and want to come up with new ways to spend time on it. But mostly, it's because Best Picture is the only award that is given out based on the concept of "ranked choice." In every other category, voters select one nominee, and the one with the most votes wins. Cut and dry. With Best Picture, voters are asked to rank all the nominees from top to bottom. They're only required to select a 1st place winner to have the ballot be eligible, but rankings are highly encouraged in this system.
This is because with an expanded field of nominees (between eight and ten in a given year), it's all but impossible for one film to get the majority of votes, or even a strong plurality. As such, the way the system works is that everyone ranks their list from 1st to 8th place. After all the 1st place votes are tallied, if there is a majority, then the movie wins, no muss no fuss. If there's no majority, then the film in 8th place (based on those 1st place votes) is eliminated from contention. All of those ballots are then redistributed based on 2nd place votes, and so on. Eventually, it's possible to eliminate all but two contenders to get to that winning majority, but based on mathematical models (FiveThirtyEight did a great piece on this a while back), it usually takes three or four rounds to determine the winner. It may not be the movie with the most votes, but it is the most liked movie of the field for all intents and purposes.
This system was also just used to elect the new governor of Maine, and if applied nationally, it could be a good way to get rid of the tedium of the two-party system. It's a complicated system that doesn't really work well for the 24-hour news cycle, but at minimum it would kill the hyper partisan arguments of "Every vote for Jill Stein is really a vote for Trump," and the like. If voters had ranked choice, they could vote for whomever they want, rank the candidates top to bottom, and therefore not feel like their vote has been thrown away by either going for a third party candidate with no chance to win, or kowtowing to the major parties in betrayal of your personal political ethics.
So with that in mind, I have ranked the eight nominees for Best Picture. There's no need to do the usual alphabetical listing this time, as by this point you all know who the nominees are and I've spent a metric fuck tonne of time on each for one category or another (or in the cases of The Favourite and Roma, 10 of them). So we'll just dispense with the overviews and go straight to the rankings and justifications for said.
This year's nominees for Best Picture (with accompanying weighted scores) are:
8. A Star is Born – Bill Gerber, Bradley Cooper, and Lynette Howard Taylor
Score: 24/80
They say a film like this comes around once in a generation. In this case, it's literal. This is the fourth version of the film, and should be lauded for being a remake that doesn't suck. I liked the film, I really did. But that's about it. I liked it. I didn't love it. And that's okay.
Bradley Cooper did a fine job in his directorial debut. The writing is decent, his direction was competent, and the acting was a bit of alright. Lady Gaga does a great job essentially playing herself. But this is far from Oscar-worthy. Apart from the soundtrack, which included any number of worthy tracks ("Shallow" has to be a lock for Original Song), this is just a by-the-numbers, middle of the road, crowd-pleasing remake. There are some decent creative touches, as well as some baffling moments in both the film and the meta sense. As I've said before, it takes a Herculean amount of arrogance for Bradley Cooper to cast himself as the person to convince Lady Gaga of all people that she's beautiful and talented. There's nothing wrong with being adequate, which is what this film is. It's more than enjoyable, but it's about as Oscar-worthy as Tag.
7. Roma – Gabriela Rodríguez and Alfonso Cuarón
Score: 35/80
Alfonso Cuarón is definitely going to take home some hardware on Sunday. In fact, my brain tells me the most likely outcome is the same one he got for Gravity a few years ago. It's going to get a few awards because it got way more nominations than it deserved, and when it comes down to it, an actual contender will win, as Cuarón can't reasonably expect to coast to Best Picture on reputation alone.
Despite being released on Netflix, this is the least accessible film on the slate, because a) it's not in English (no Foreign Language film has ever won Best Picture) and b) despite the distribution, Alfonso Cuarón apparently had a very specific speaker system setup in mind, which required local theatres to retrofit their auditoriums just to make it work. It's really hard to engage with a prestige film if you have to do physical work (like tech adjustments and reading) to do so. The film is beautifully shot, and Cleo is a loving tribute of an avatar for his childhood nanny, but apart from Cuarón being Cuarón, there's nothing truly superlative about this film that should elevate it to the pantheon of 2018.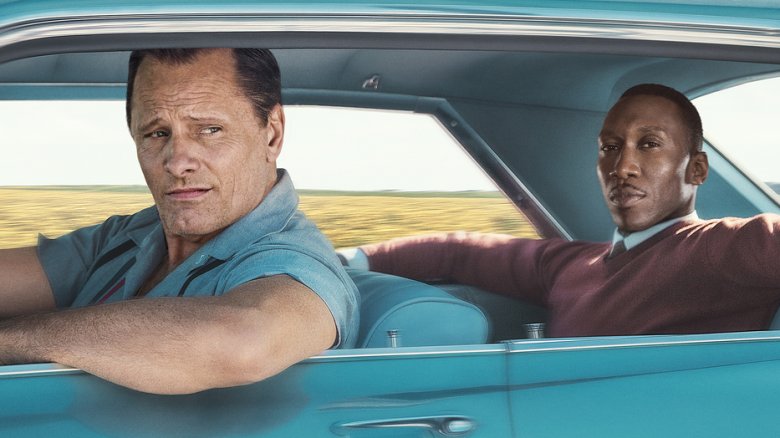 6. Green Book – Jim Burke, Charles B. Wessler, Brian Currie, Peter Farrelly, and Nick Vallelonga
Score: 39/80
I really enjoyed this film, and as myself and many others have pointed out, it's somewhat nice to have the Driving Miss Daisy role reversal of the white person driving around a black man. The problem is that this movie was over-produced (in case you couldn't tell by the FIVE named producers who would receive the award), to the point that it may receive backlash despite early circuit success.
The two lead performances are funny and heartwarming, mostly for Mahershala Ali's quiet dignity and razor sharp wit. Viggo Mortensen makes for a fun mook certainly as well. But the racial backdrop is oversimplified and whitewashed in Tony Lip's favor because his son wrote the film. It's gotten to the point that Don Shirley's descendants have decried the film as a "symphony of lies," which might not sit well with the Academy's ever-expanding diverse membership. I wouldn't necessarily mind seeing this win, as it's just under the 50% mark for my grading scale (though some critics I've seen have taken it as a personal sleight that it was nominated for anything), because it's a good balance between prestige achievement and audience engagement, but I do think there are better choices out there.
5. Bohemian Rhapsody – Graham King
Score: 39/80 (Year-End Ranking Tie-Breaker)
When this film won the Drama Golden Globe for Best Picture, it was the first real sign that this Awards Season was going to play out a lot differently than last year. The media as a whole was furious that this won, because while audiences absolutely loved it (myself included), critics decidedly did not. It still isn't even "Certified Fresh" on Rotten Tomatoes (it holds a 61% rating as of this publish). A lot of people want to harp on the film's flaws to the point of negating all the really great shit.
It's the most bipolar movie of the year, because the highs are super high (behind-the-scenes looks at how music recordings were made in the 70s, the Live Aid finale, Rami Malek's performance, etc.), and the lows are pretty low (fairly soft portrayal of Freddie Mercury's personal life, muddled timelines, the mere existence of Bryan Singer). But what the critical press failed to recognize is that most audiences aren't trained to look for continuity errors or ironclad historical accuracy. What they want first and foremost is to be entertained, and that's what they got with this film to an insane degree. If this were to somehow win Best Picture, no average filmgoer will say in 20 years' time, "Good God I can't believe that won. What the hell was the Academy thinking?" Meanwhile, it hasn't even been that long and people are already saying that about The Artist, The Hurt Locker, Slumdog Millionaire, and Crash.
4. Black Panther – Kevin Feige
Score: 44/80
It took 18 films, but the Marvel Cinematic Universe finally achieved the impossible, with Black Panther being the first ever comic book film nominated for Best Picture. It is also, in many respects, the greatest technical achievement in 2018 film (give or take a few shitty CGI rhinos). In a year when the Academy is so desperate to be seen as relevant to a younger generation, it did just about everything it could do that was so brazenly stupid as to give back all the goodwill it got for recognizing this blockbuster masterwork.
This film basically had everything. It has a strong cast, including Michael B. Jordan as the best villain in the decade-long history of the MCU. It has design elements beyond anything the franchise has done to this point. It's the most complete story in Marvel history. And on top of that, the soundtrack kicks copious amounts of ass. Will this win Best Picture? Almost certainly not. But if it gets enough appreciation on Sunday, it may stop the bleeding for a while on all the other fronts.
3. Vice – Dede Gardner, Jeremy Kleiner, Adam McKay, and Kevin J. Messick
Score: 45/80
This film is fun, if inessential. Adam McKay has given us two highly entertaining and hilarious looks at the wrongs perpetrated by the moneyed interests of our 21st century society. With The Big Short, he gave us the easiest to understand version of the events leading to the nationwide ass reaming we all suffered during the housing collapse and recession. With Vice, there really wasn't much to explain. Dick Cheney is a monster. Really, apart from maybe Mary, the entire family stands as an indictment of every moral and value we as a country claim to have.
Did we need a reminder of how horrible Cheney is? Not really. That said, the execution was expert level. Christian Bale gave us yet another transformative performance (and not just because of the makeup, which is itself Oscar-worthy), the script is on point and funny as hell, while still educating the audience who didn't know just how far back Dick's evil went, the supporting cast is strong (despite the superfluous Supporting Actor nomination for Sam Rockwell), and the editing is just as important to the framing of the story as it was last time. While it's definitely preaching to the choir, this is a solid contender, and a very well-rounded film.
2. BlacKkKlansman – Sean McKittrick, Jason Blum, Raymond Mansfield, Jordan Peele, and Spike Lee
Score: 65/80
Now we're down to the only two films I really think deserve the title of Best Picture, based on these nominees. If any of the top six win, I'll be somewhat satisfied, but these are the two that are head and shoulders above the competition in my eyes. While BlacKkKlansman was only my 17th favorite film of 2018, the combination of its artistic and technical merit puts it above crowd-pleasing blockbusters like Black Panther and Bohemian RhapsodyI, which rank higher for me on a personal level. I enjoyed them both immensely, but objectively, I can see that BlacKkKlansman is more deserving of such a prestigious award.
It's long overdue for Spike Lee and his team of frequent collaborators to get the recognition they deserve. The man has been making tremendous films for over 30 years, and this is his first nomination for Best Picture (same for Best Director). Transforming a procedural memoir into a stylized biopic that mirrors the racial tensions and public atrocities we see today? Genius! Making racism funny? Difficult, risky, and a success to the highest degree! Inserting homages and references to overlooked classic genres? Inspired! Keeping the film grounded to maintain the relevance to the history unfolding before us in the here and now? Disciplined and expert! This film is the truest lesson from the past year that history is bound to repeat itself if we don't learn from our mistakes, and only a master like Spike Lee could pull it off and make it entertaining as hell in the process!
1. The Favourite – Ceci Dempsey, Ed Guiney, Lee Magiday, and Yorgos Lanthimos
Score: 69/80 (Nice!)
I know that picking an English royal costume drama is about as #OscarsSoWhite as you can get, but I don't make the decision lightly. This movie is basically the best of all worlds, displaying some of the best (if not THE best) of all the major aspects of production, all while keeping the audience in stitches for the most ribald farce in memory.
Let's run down the list. For Acting, you have arguably the strongest cast of the year, and it's led almost entirely by women, with Olivia Colman, Emma Stone, and Rachel Weisz earning nominations (only Colman hasn't won before). As for the supporting men, Nicholas Hoult and Joe Alwyn are sardonic delights in their own right. When it comes to Writing, Deborah Davis and Tony McNamara give us a script so delicious it has to be fattening, and it's the perfect type of material for Yorgos Lanthimos, who gets his first Best Director nomination, and a well-earned one at that. From a design standpoint, the production design and costuming are about as good as it gets for this subgenre. In the technicals, it more than earns its nominations for Cinematography and Film Editing. Even the music, the one aspect where it has no nominations, is fairly strong, with a decent ambient score and some really well-placed cues, particularly during the dance scene. It all comes together to form the most perfect entry among this year's nominees.
Now watch Roma win it all…
Next up: We've spent the last five weeks dealing with the quality, now it's time for pure quantity! Tomorrow, I'll make my official predictions for Sunday's ceremony, ignoring my own preferences in favor of what I think will be the cold, hard truth of the results. Who will win? Find out tomorrow!
Join the conversation in the comments below! Which film do you think deserves to win? Which film do you think should have been in this field? Does my grading system make any sense whatsoever? Let me know!