First off, I just want to deliver a brief apology for the delay in this review. I saw this movie a few weeks ago, but then spent about two weeks covering this year's Brooklyn Film Festival for my friends at "No Rest for the Weekend." I'll have a recap post in the coming days, but suffice to say, it was a great festival yet again, even though it meant shelving my regular coverage for a fortnight (plus the subsequent week I spent laser-focused on work and making up on lost sleep).
But now we're back on track and ready to dive deep into… a standard-issue horror sequel. Can't win them all. When I reviewed the previous A Quiet Place movie three years ago, I marveled at how much the intricate sound design enhanced the theatrical experience, and how the movie was by far the best product to have Michael Bay's name attached to it in decades, with Mr. Explosion serving as an Executive Producer. Well, after a year of delays thanks to COVID, the studio certainly advertised this follow-up as being absolutely crucial to see in a theatre, banking on a similar response to the original, but honestly, you can see it however you want to without giving anything up in the moment. And as for Bay? Well, let's just say this movie falls a bit more into his wheelhouse, and not in a good way, with increased pyrotechnics and potentially problematic right-wing overtones. On the whole, it's a worthy successor, but the things that likely pissed you off last time are magnified in what is pretty clearly a bridge film to an eventual third installment.
Given that the monsters have already been revealed, and there's no real surprise left to be had with the concept, the film begins, rightly, by just showing how the carnage all began, flashing back to the day the aliens first appeared, and the chaos and slaughter that ensued. From a practical perspective, the sequence serves two major purposes. The first is to allow director John Krasinski to actually be in the film, given his character's sacrifice in the last one. Second, it introduces us to Emmett, played by Cillian Murphy. In the movie's present-day, Emmett's lost his entire family, living holed up in an abandoned factory near his old farm, which allows him to slot in to the substitute father role now that Krasinski's Lee is dead.
It's a tidy little narrative device to set the emotional stakes of the film, even if it is a bit obvious and trite. That said, this opening scene, shot in several long takes, is sufficiently thrilling and suspenseful to shift the tone from survival thriller to a bit more of an action milieu. If the first film was the Alien of the franchise, this is set up to be Aliens. I shudder to think how they'll make the next one into Alien 3.
Back in the present, the movie picks up where the last one left off, only with the unfortunately unavoidable fact that Regan (Millicent Simmonds) and Marcus (Noah Jupe) are noticeably two years older. Deciding to seek out other survivors, the Abbott family, led by Emily Blunt's Evelyn (still barefoot but no longer pregnant, though with baby in tow), leave their homestead behind, having figured out how to kill the aliens in the last film's climax. After Marcus steps on a bear trap, the group is saved by Emmett when he sees them fight off one of the creatures. At his factory hideaway, which includes airtight underground bunkers, he keeps a radio, where a local station plays "Beyond the Sea" on repeat. Regan deduces that this is a signal from other survivors, a beacon to an island sanctuary.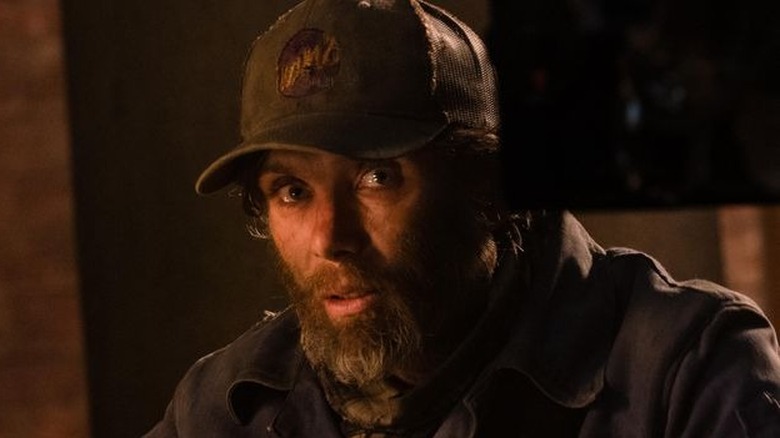 At this point, the story basically splits into three parts. Regan heads for the radio signal, eventually followed and accompanied by Emmett. Evelyn heads back into town for supplies to save Marcus' foot. Marcus watches the baby and tries to deal with his own insecurities. Obviously, all the meat is in the first of these plots, with the other two padded out with a few chases and action sequences that honestly feel pretty contrived.
The main action with Regan and Emmett is formulaic, but in a way that still feels entertaining. A scene on a derailed train with a flock of birds contains the first legitimately well-done jump scare I've seen in years. An encounter with feral humans at a dock makes for a pretty decent action sequence. And while it doesn't really happen organically due to Regan's impulsiveness in setting out on her own, the eventual rapport between her and Emmett is ripe with character moments.
The problem is that in order to get to these places we have to take gargantuan leaps in logic along the way, and rather than embracing the elements that made the last film so enjoyable, Krasinski and Bay instead lean into the stuff none of us liked. Gone is the meticulous sound design, in favor of an ambient score that feels completely by-the-numbers for a horror movie. A lot of the thrills in the last movie revolved around character bonds and teamwork, so this time we split everybody up, including setting up a major showdown due simply to Marcus scaring himself with a heretofore unseen curiosity and cavalier attitude about his nearly-severed foot.
Now, some of the bits in the last movie had lapses in logic, but they were mostly germane to the characters as established. Here, half the action is incited when Marcus steps on a bear trap that Emmett himself set. Why would he do that? If a human hits it and makes noise, presumably aliens come and kill the person. If an alien hits it… we honestly don't know how they react to physical, non-aural damage, but I imagine it would make noise, thereby drawing in more aliens. Either way, Emmett is inviting more enemies for no reason. How did he survive a week with that lack of forward thinking? When Regan and Emmett get to the island sanctuary, you have a situation where the "clue" makes no sense, as it's a record playing on repeat without the arm moving, and a new friend played by Djimon Hounsou who's so clearly marked for death as "insert black guy cannon fodder in a horror film here," that his literal character name is listed as "Man on Island." Seriously.
But most frustrating is the apparent social/political tone taken in this sequel. Krasinski caught some flack last time for the movie's penchant for guns and the utter idiocy of Lee and Evelyn conceiving a child in this hellscape, not to mention the insane risks in giving birth. Krasinski was able to brush it off by saying that he didn't intend a pro-gun, anti-abortion message, only the grand metaphor of the family. However, this time he and Bay seem to double down on this nonsense by having both Evelyn and Marcus ready to sacrifice themselves for this baby that can only make noise (yet they'll also abandon it at the screenplay's whim), and Marcus himself can only finally get over his fears and "become a man" when he takes a gun and shoots one of the aliens, because, 'Murica, I guess. Yeah, fool me once…
On the whole, this is a well-made film, and a decent follow-up to what may still go down as an all-time classic of the genre. But despite the pre-show message from Krasinski that he never intended to do a sequel, it's pretty clear that this is just a setup for a massive finale. Part one has the family survive, part two has them meet others and show them how to kill the enemy, part three will be the war for the planet of the gapes. And while the film is good, it's by no means essential, and certainly not the massive call back to the theatre that it advertised (though that sales pitch apparently worked, as this was the first movie to break $100 million since the pandemic began). All in all, it's alright, but really, what started as a unique horror concept has quickly fallen into cliché and you can already see them fishing for your next wad of cash while handing you an NRA pamphlet.
Grade: B-
Join the conversation in the comments below! What film should I review next? What are the best horror sequels? Seriously, why would Marcus just go wandering around looking for something to scare him and make noises? Let me know!