We're but a few weeks away from Oscar nominations, and since the shortlists were released last month, I haven't been able to make any further progress on the 15 semifinalists for International Feature. I saw 10 of the films before the announcements were made, but nothing since. That ends today, as the first of three more entries makes its stateside debut. The Kingdom of Bhutan submitted Lunana: A Yak in the Classroom last year, but because the country didn't form a nominating committee officially sanctioned by the Academy, the film was disqualified. Undeterred, the small South Asian nation dotted their t's and crossed their i's in 2021 and put the film forward again, confident in its quality and ability to compete.
Their persistence is rewarded here, with Bhutan's first ever appearance on the shortlist. Will the film ultimately get nominated? Honestly, probably not. Of the other 10 films I've seen on this list, there's just too much high quality at the top, and there are significant campaigns at play for Compartment No. 6 (which I didn't really care for), and the upcoming Norwegian entry, The Worst Person in the World. That said, this is still a good film, one worthy of attention and consideration, and if it did get a surprise nod, I certainly wouldn't be upset (unless it came at the expense of one of my favorites).
The film is a fairly straightforward inspirational drama about culture clash and appreciation for a simpler life. Ugyen Dorji, played by Sherab Dorji (there are a lot of Dorjis in front of and behind the camera, so I assume it's a common surname like Smith), is a musician aspiring to emigrate to Australia to pursue his career, but before he can leave, he must finish his five-year contract of government service as a teacher. Given his lackadaisical attitude and overall disdain for the profession, he is assigned for his final year to Lunana, a small mountain village so remote that after an all-day bus ride to the closest accessible town with consistent electricity, it's still an eight-day hike to get there.
The first half of the movie is Ugyen's trek, accompanied by locals Michen (Ugyen Norbu Lhendup) and Singye (Tshering Dorji), who find his urban lifestyle quaint and humorous. One of the early running jokes revolves around how addicted to creature comforts Ugyen is, the other two snickering about his need for toilet paper and hiking shoes when they just use simple leaves and galoshes with no issue. Ugyen feels like he's been treated unfairly with this assignment, complaining most of the way (especially when his music player runs out of battery power), and dismissing the rituals Michen and Singye partake in along the way. By the time he arrives in Lunana and is received by the whole village (led by Kunzang Wangdi as Asha, the town elder), Ugyen is already completely over things and wishes to be taken back as soon as he can rest and recover.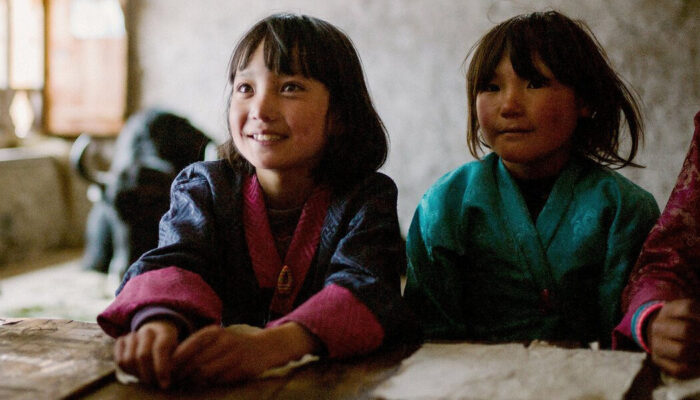 This is all pretty standard stuff we've seen before. An urban youth hates a rural lifestyle, and can't understand how something so strenuous to him comes so naturally to those who've lived this way all along. He's so focused on his goal of leaving that he can't see what's right in front of him, always too fixated on the negatives to appreciate the journey. This is somewhat ironic for Ugyen's character specifically, because he has an affinity for country music and has a strong command of English, so I'm amazed he hasn't heard "The Climb," which would be about the most on-the-nose music choice imaginable.
But then the meat of the movie gets going, and we all know what that entails. The next morning, Ugyen is woken up by the "class captain" at the school, a young girl named Pem Zam (also the actress' real name), who is cute as a goddamn button, and after a couple of days seeing how enthusiastic the children are to learn, Ugyen decides to stay and complete his task. He eventually comes to enjoy his life in the yak-herding village, and even becomes slightly enamored with a young woman named Saldon (Kelden Lhamo Gurung), who sings a mournful song each day from the top of a hill. Ugyen asks Saldon to teach him the song (it should be noted that there's no romantic subplot here, as Ugyen has a girlfriend back home in Bhutan's capital, Thimphu), which entails learning about the cultural traditions of the town and how to raise a yak himself. Saldon eventually delivers one named Norbu to the school (hence the title; before this point it was more a karmic metaphor), and Ugyen fully embraces his role in the community, to the point where there's a legitimate dilemma when winter approaches and the time comes for him to leave.
None of this is new, but that doesn't mean it doesn't work. The performances are done quite well, and writer/director Pawo Choyning Dorji combines a sweet, funny script with some pretty spectacular cinematography showing off the picturesque landscapes of rural Bhutan. There's even a fun running joke about the relative elevations of Lunana, Thimphu, and points along the way, as Ugyen initially tries to worm his way out of the assignment because he has an "altitude" problem (which his employer corrects/scolds to "attitude" problem). His home in the capital is about the same elevation as Denver, while Lunana is three times higher, and every checkpoint shows just how far removed Ugyen gets from everything he knows, even though his companions consider it a casual stroll.
There's a lot to like about this movie, particularly the sense of humor (yak shit is used for both laughs and character development), the scenery, and the kids (especially their ability to learn English despite being about as distant from Western civilization as you can get). And to director Dorji's immense credit, he doesn't cop out with too schmaltzy of an ending, because he still recognizes that Ugyen is an individual with his own agency and ambitions. This is meant to be a lesson, not a conversion, and that distinction is handled quite well. The overall story of a beloved teacher enriching his life along with those of his students is a well-worn theme that's always worth revisiting when in capable hands. The film itself is simple, but enjoyable throughout with strong, competent production values. If this is Bhutan announcing itself on the world cinema stage, I'm very much looking forward to what comes next.
Grade: B
Join the conversation in the comments below! What film should I review next? What did your favorite teachers do to help you learn? Would you be comfortable using cow pies to light your home fires? Let me know!