We're in the thick of it this Awards Season, with the Oscar Blitz fast approaching. The Academy announces its nominations in just over a week, the major guilds have already released their lists (with the Writers Guild of America curiously waiting until a day after AMPAS), the BAFTA nods are coming later this week, and the Golden Globes and Critics' Choice Awards are already in the books. Things are certainly heating up.
It is with that mindset that I continue my quest to complete my annual goals of seeing all the films in the shortlists for Documentary Feature and International Feature, as well as the entire submission list for Animated Feature. Here's where things stand as of this writing. In animation, I've seen 24 of the 27 entries. The three remaining are Lamya's Poem, New Gods: Yang Jian, and Run, Tiger, Run! Of those three, the only realistic one I have a chance to see is New Gods: Yang Jian, which opens nationwide this week. I have found no trace of Run, Tiger, Run! and Lamya's Poem had its qualifying run back in mid-November, with no announcement of a DVD or streaming release as of yet. I'll keep looking, but my hopes are not high.
When it comes to foreign films, there's a bit more hope on the horizon. Three remain in this category for me as well, now that I've seen France's submission, Saint Omer (review coming soon). Sweden's Cairo Conspiracy has a U.S. distributor but no release date yet. From Morocco, The Blue Caftan will be in theatres on February 10. It's after the nominations come out, but that's okay. So long as I know when it'll be available, I can see it and (hopefully) complete the list whether or not it gets nominated. Finally, the hardest one to find, Joyland, from Pakistan, has been an ordeal, but I have found a solution. It didn't even get a North American distributor until last week, and tracking it down has been immensely difficult, as the fact that it was banned for months in its native country raises its political profile to the point where it may get nominated based solely upon it. However, with the help of one of my friends at Laemmle, I found a way around it. The film will be showcased at this year's Sundance Film Festival, beginning on January 19. Obviously, I can't travel to Utah, but Joyland will available for virtual screening. If you go to the Sundance website and register, you can buy an online ticket for $20, and you'll be able to see the film starting on January 24 (same day as Oscar noms) and running through the end of the festival on January 29. If that's not an option for you, then there might still be a chance, as there's something of an embargo with the film until after Sundance, so maybe it'll see a quick release after its run in Park City. Either way, I am reasonably confident that I will complete the International Feature shortlist for the second year running.
And that brings us to the matter at hand, Documentary Feature. As of tonight I've seen 11 of the 15 shortlisted entries. Of the four that remain, two are on streamers (Last Flight Home and Retrograde), one will be showcased at a local theatre on January 30 (Children of the Mist), and one remains elusive (A House Made of Splinters). I worry about that last one, as its very serious subject matter – children in Ukraine – makes it very attractive to Academy voters, particularly in the Documentary Branch. However, like Joyland until a few days ago, it is without American distribution. It has played at several festivals, and even won an award for director Simon Lereng Wilmont at last year's Sundance Festival, but the closest we have to a definitive release is the announcement this past Friday that PBS has secured the film for its POV series, which will broadcast sometime in the summer. That, obviously, is too late for our purposes. There is no obligation for a documentary to screen publicly to be considered for the Oscars, only that it has qualifying runs in recognized festivals, so the film has already met its requirements as far as the letter of the law is concerned, but I have a severe problem with the idea of a movie winning the industry's highest honor if no one can reasonably see it. I'll keep digging, but I remain fretful that my quest, not just for the shortlist but for the entire category, and thus the entire Academy Awards slate, may be stymied. Why can't AMPAS just make some sort of arrangement to provide a limited distribution for every nominated film under its own banner?
Anyway, now that the housekeeping is out of the way, it's time to continue breaking down the semifinalists in this year's field. As I mentioned, I've now seen 11 of the films vying for the award, and here we'll bring the list of reviews up to eight (you can read Part 1 of this mini-series here). Let's get to it!
The Territory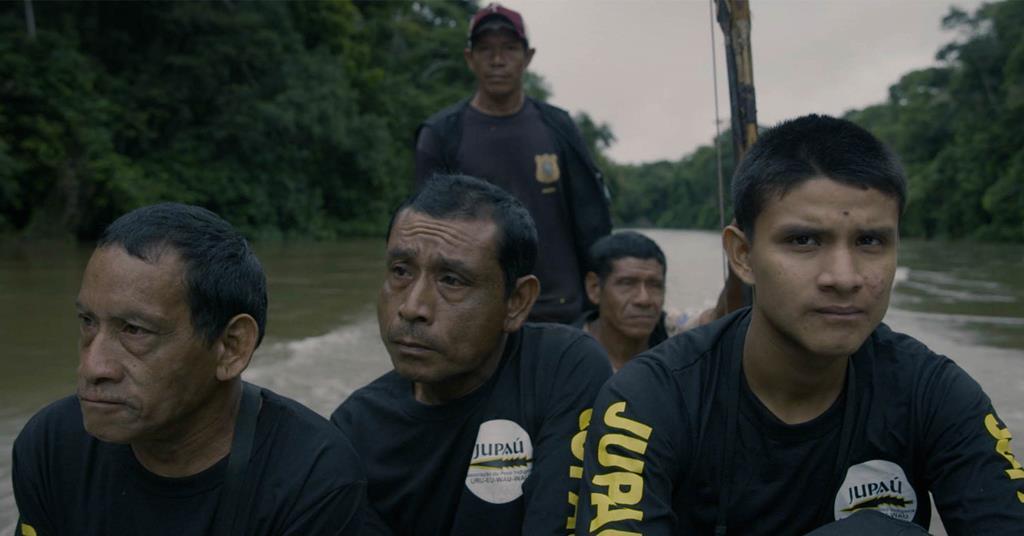 At first I was skeptical about The Territory, as the film opens with animations and time-lapse satellite photos accompanying text about how the Amazon rainforest is being destroyed, largely to make farmland and grazing areas for cattle. It's an environmental argument I've heard plenty of times, and while I sympathize, I was in no mood for a lecture. Thankfully, this introduction belies the truly compelling story that unfolds in what feels like real time, as focus lands on the Uru-eu-wau-wau indigenous tribe in Brazil. Uncontacted until the 1980s, the tribe once numbered in the thousands, but now only counts 200. While a lot of attention from the world, particularly Western media, is centered on the ecological issue, this film keeps it locked on the human one that runs alongside it, and it's as fascinating and poignant as it is tragic.
In a story that echoes our own history in America, the Brazil depicted here (from 2018-2020) is one experiencing its own form of Manifest Destiny. While indigenous people live on protected lands, incursions are a constant threat, mostly from opportunistic loggers and cooperative farmers who literally believe it is their God-given right to own, tend, and profit from the land. With the 2018 election of Jair Bolsonaro – often referred to as the Brazilian Donald Trump – the near-genocidal tactics are only encouraged, with the neo-fascist leader using tribal people as scapegoats for his populist agenda and outright goading his supporters to advance, promising to end protections for people like the Uru-eu-wau-wau.
The film spends a lot of its time following two different crusaders. The first is Bitaté, who is only 18 years old when the story begins. Despite his youth, he is called upon by the tribal elders to become a new chief, taking up the mantle of those who came before him to patrol the borders of their territory inside the rainforest and chase out the invaders, or at minimum expose them. Even though their culture is ancient, the tribe has adapted to modern technology quickly, employing surveillance equipment and drones to identify threats, using a digital lens as a weapon equally strong as the arrows they deftly fire. The second is environmental activist Neidinha Bandeira, who acts as a liaison between the Uru-eu-wau-wau and the outside world, pleading on their behalf to government officials who were at best ineffectual at stopping the clearcutting and violence before Bolsonaro's election, and who are now forced to sit on their hands as the administration works to stop them entirely. Bandeira, in the course of her advocacy, is subject to numerous death threats from Bolsonaro's supporters, not unlike what we've seen in this country from Trump's most ardent goons.
Suffice to say, the challenge for the Uru-eu-wau-wau is daunting, and this is before COVID sets in (Bolsonaro adamantly denied the pandemic was even real for the longest time despite Brazil having the second-highest death toll per capita), threatening to wipe out what small population the tribe has left. The film serves as a jarring parallel to America's own complicated and shameful history with its native population, and in the wake of Bolsonaro voters staging their own attempted insurrection last week, it unintentionally becomes yet another reminder of how much the United States can be seen as a model for how the rest of the world operates, both for good and ill.
Grade: A-
All That Breathes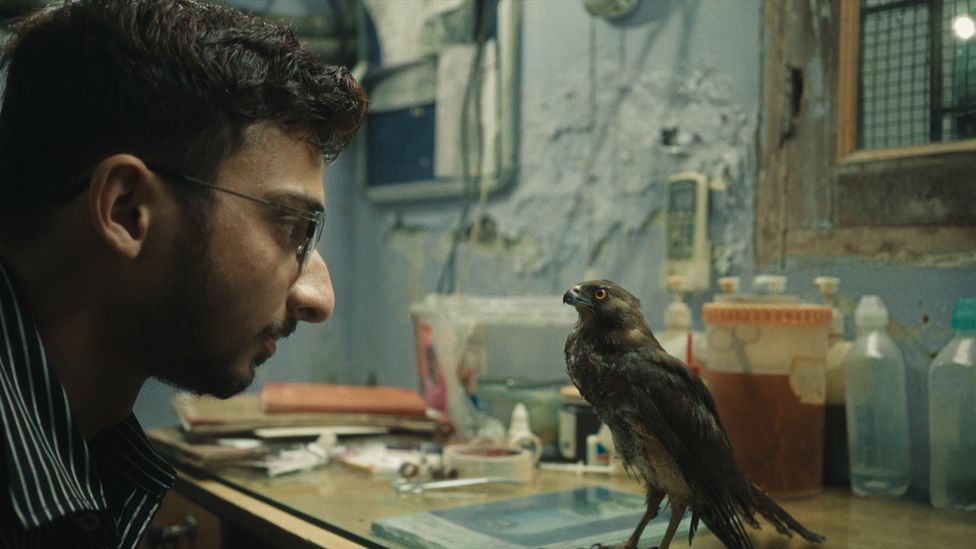 A testament to the value of perseverance, All That Breathes distills the struggle for survival down to the efforts of two brothers and their friend to save endangered animals, and teaches a wonderful lesson about how life finds a way. A deeply intimate and good-humored portrait, this is a film that will warm the cockles of your heart as both human and animal spirit triumphs in the face of adversity.
Mohammad Saud and Nadeem Shehzad, along with their close friend Salik Rehman, are Muslims living in Delhi, India, where they run a tiny clinic in a shared basement/garage area specifically to tend to birds of prey, especially kites (though some owls get focus as well). As the skies above their hometown become more and more polluted thanks to industrialization, hundreds of kites simply fall out of the sky, injuring themselves in the process. It's then up to these three men to collect the birds, mend their wounds, and release them back into the wild.
Taught from childhood to value all life in the world, the three were raised to believe that kites could ward off troubles and bad luck, and as such, they've devoted their time and what little money they have to the effort. However, they face numerous challenges, from a lack of grant funding, to environmental factors (heavy rains during monsoon season floods their makeshift hospital) to the risk of their own personal harm in recovering the birds (Salik and Nadeem overestimate their swimming abilities as they cross a river to rescue one fallen kite early on), to cultural roadblocks in their homeland. As kids they learned that it was against Hindu law to help the kites because they were carnivorous birds, so facilities were scarce. As adults they face mounting pressure from sectarian forces, as government discrimination against Muslims is on the rise. On more than one occasion, they have to hunker down as riots rage mere blocks from their houses.
But through it all, they endure. The empathy they show to their winged charges fuels them through everything, and like the birds themselves, they find ways to adapt. Positive news coverage leads to a grant that funds a new rooftop clinic of their own design, and Saud is accepted to study in the U.S. to become a fully-licensed veterinarian. Even the kites learn how to live and thrive in unforgiving terrains and landfills, giving the trio just the tiniest bit of hope that one day their services will no longer be needed, and that they can spread their own proverbial wings and explore everything this world, and this life, has to offer. It's heartwarming in the extreme, and a welcome salve and respite from some of the heavier material in this year's class.
Grade: A-
Hidden Letters
One of the most fun parts of exploring documentaries is learning something entirely new, being exposed to something I've never encountered before. Such was the case with Violet Du Feng's absolutely brilliant Hidden Letters. A subtly subversive masterpiece, the film introduces its audience to extraordinary people bound by a common heritage while also indicting powerful societal influences that seek to exploit them. In a country where political speech and dissent is heavily scrutinized and censored, her film may just be able to become an agent for change because of its careful orchestration and emphasis on understanding.
The story revolves around a Chinese language called Nüshu. Developed centuries ago, Nüshu was created and passed down in secret among women as a means of forging support systems for one another under male dominance during the country's dynastic history. Using long, slender characters that evoke images of candlelight and the female form itself, the design was made so that personal stories and poetry could be written on the paper folds of fans and other thin surfaces to be shared between the women without others knowing. It was only in the 1980s that the public was finally and officially exposed to the language. As original practitioners began to die out, it became crucial to make Nüshu known so that it could survive.
This alone would make for a fascinating and compelling film. Just learning about an entirely new (yet ancient) language, one expressed chiefly in gorgeous script and mournful song, would be amazing for me, as I've always been intrigued by linguistics. It's sort of a hobby for me. The ways in which people communicate has held my interest for as long as I can remember, so the mere explanation and history of Nüshu would be enough for me to recommend the movie.
But then Du Feng (who held an insightful Q&A after the screening I attended) took things to the next level in the forms of her three lead characters. On the one hand, you have Simu Wu, a professional singer in Shanghai who uses Nüshu songs in her performances. She has recently become engaged, and there's a stunning parallel between the lore of the language and her love life as it unfolds. Initially using Nüshu to help forge her relationship, she quickly learns that as her wedding approaches, she's expected to take on a more subservient, submissive role that conforms to traditional Chinese gender norms, the very nature of which led to the creation of Nüshu as a refuge for oppressed women.
On the other side there's Xin Hu, a divorcee who works at a museum devoted to Nüshu in Jiangyong, and a student of one of the last living masters of the form, He Yanxin. From Xin we learn how women resist in real time while still maintaining a balance in their lives as well as their jobs (as she's a government employee). Through her experience we see not only the consequences of not aligning with societal expectations (she lives with her parents, while her abusive ex-husband has remarried and had children, and as such she is seen as a failure in marriage), as well as how communist China effectively commoditizes Nüshu in nakedly capitalistic ways. Men in powerful corporate positions look for ways to sell the language as a tourist attraction and a slogan, so-called "Princess Camps" train the youngest of girls to be obedient while still learning Nüshu, and Xin is encouraged to use the characters on souvenirs and other tchotchkes to make a fast profit (all while she's told to smile more, in case the ingrained sexism wasn't obvious enough).
All three women have amazing story arcs that critique their society while also encouraging hopeful progress. Throughout the film I just wanted to know more and more, which is what the best documentaries tend to do. When you've presented a unique topic or perspective, and filled it with so much truth and life that the only thing close to a flaw is that you leave the audience so enthralled that all they want to do is go home and do research to further flesh things out, you know you've done something special. This movie, and Violet Du Feng, have done exactly that.
Grade: A
***
That's it for this edition. We're eight down, and I already have three more ready to go in the coming days. Keep your fingers crossed that I can track down the few entries that remain across all the categories, and mark your calendars for next Tuesday, when we'll learn which films have made the final cut!
Join the conversation in the comments below! Have you seen any of these films? Which was your favorite? What would you do if a bird swooped in and took the glasses right off your face? Let me know!