The Academy tends to favor period pieces with this award, and there's no shortage of options this year. Two films fall under the traditional "European Royalty" subgenre that has seen many a winner, as well as a Western anthology with several different creative outfits. There's also a motif from 75 years ago, and a fantasy mix of futuristic clothing with an ancient tribal aesthetic. Basically what I'm saying is don't default to the old standards.
This year's field is one with a lot of Oscar experience. This is the second year in a row – and third of the last four – where one designer is nominated twice, and the first time this happened was with the same person as this year. Everyone in the field has been nominated no less than three times. One is looking for their fourth victory, another looking to join the multi-winner club, and the other two are looking to finally break through and get their first taste of gold.
This year's nominees for Costume Design are:
Mary Zophres – The Ballad of Buster Scruggs
Zophres is on her third nomination this decade. She was previously nominated for her light and bright designs in La La Land and for the dirty, gritty Western motif of the True Grit remake in 2011. Well now she's reunited with the Coen Brothers and is once again working on Western forms with the Netflix anthology film.
Because each of the six stories are thematically different, the costuming for each one has to reflect that theme. In the opening title story, Buster Scruggs wears a pristine white cowboy suit with tassels to make him stand out with his sing-song deadliness. Conversely, Tom Waits' story of a gold prospector has him wearing clothing that's as down and dirty as he has to get his hands in order to find his fortune. Zoe Kazan's character is pure, hopeful, and virginal, and her costuming reflects that. There are times when she looks like an Old West version of a nun in a habit. Zophres had a monumental task and she accomplished it beautifully.
Ruth E. Carter – Black Panther
Like Zophres, Carter is on her third nomination without a win, and tradition would dictate that she come up short yet again. But this is a year where the awards voters are going out of their way to laud films that engaged with audiences, resulting in Black Panther being the first ever comic book movie nominated for Best Picture. As such, there might be a way for Carter to buck the trend of period piece bias and snag her first statue with her work on this marvelous (pun not intended) bit of genre.
The challenge here was to create costumes that paid homage to African tribal norms without coming off as pandering or appropriating, and Carter succeeded at the highest level. From the royal guard's battle uniforms to the regalia worn by T'Challa both in public and in counsel, to the high tech features of the superhero suits themselves, Carter's diligence paid massive dividends. T'Challa's sister Shuri was a one-woman fashion show throughout the film, even comically drawing attention to the costuming choices by evoking the "WHAT ARE THOSE?!" meme in reference to T'Challa's sandals. It takes a lot to create a new superhero story while still making the character seem relatable and grounded in reality. That's hard enough on its own, but when you're creating a futuristic hidden monarchy in Africa on top of that, then the costuming has to really sell that idea, and thankfully here it most definitely does.
Sandy Powell – The Favourite
This is the first of two nominations in this year's race for Sandy Powell, bringing her career total up to an impressive 14 so far. She has three wins to her name, including The Young Victoria and Shakespeare in Love, so you know she has an affinity for English queens. And it has to be said, The Favourite is right in the Academy's wheelhouse for this category, and since it's the co-leader in total nominations, you have to think that it'll live up to its British-spelling title.
What sets it apart from other period pieces is in how the costuming reflects the evolving status of the main characters. Olivia Colman as Queen Anne has the most elaborate designs, even when she's sitting in a wheelchair basically in her nightgown. As Emma Stone's character gains favor in her rivalry with Rachel Weisz, the intricacy of the respective wardrobes rises and falls as well. When Stone first arrives, even if she hadn't been goosed out of the carriage and into the mud, her very modest dress would still make the servants look in a better station, contrasted with Weisz, who parades herself almost like a hybrid of a general and a princess. When the tables turn, Weisz is as dirty as the "scabrous whores" who take her in, while Stone is literally sending errand boys out to fetch her more shoes. And of course, that's to say nothing of all the uniforms and various outfits the rest of the court has to wear throughout the film, you know, except for that one Tory who just stands there naked while being pelted with fruit.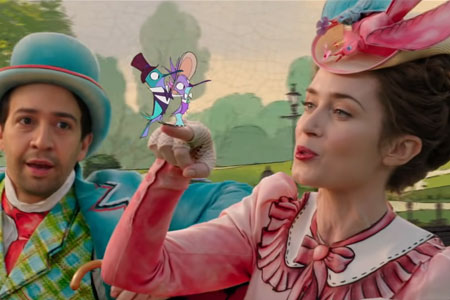 Sandy Powell – Mary Poppins Returns
I have to be honest with you, I really wasn't blown away by the costuming here. Part of it is the fact that the film is basically a jumbled retelling of the first film, and partially because nothing really screams "1930s" with the costuming itself. The "leeries," led by Lin-Manuel Miranda just look like cleaner chimney sweeps, the kids look like they're essentially wearing the same clothes as Jane and Michael did when they were children, and for some very odd reason Colin Firth looks a lot like George Banks, particularly the black suit. Even Mary's new look is little more than a Depression-era version of Carmen Sandiego.
However, there was one costuming moment that truly shined, and that was in the rehashed semi-animated sequence inside the Royal Doulton bowl. In this scene we had a most inspired choice to give the live-action characters – particularly the children – costumes that looked like cartoons. The aesthetic is to make the outfits look like they were drawn on, and I absolutely loved it. There's not much about this film that I liked, but man this was a strong point!
Alexandra Byrne – Mary Queen of Scots
Byrne has basically split her career between period dramas and the Marvel Cinematic Universe. This is her fifth nomination, all of which are in the former category. She was previously nominated for Kenneth Branagh's version of Hamlet, Finding Neverland, and both Cate Blanchett Elizabeth movies, getting her win for The Golden Age.
Oddly enough, this is partly why I discount her nomination here. She clearly knows how to dress Queen Elizabeth I, yet in this film it just didn't look all that good. Mary is dressed mostly in straight dark tones of blue and green, while Elizabeth is puffed out in white, red, and gold. The problem is that for the thematic purposes of the film, Elizabeth has to look more and more like a fraud, a paranoid pretender to Mary's rightful throne (which is bullshit, by the way, but not relevant here), and so Elizabeth's look feels like a betrayal of Byrne's earlier work. Also, in the film's effort to turn this into a Renaissance version of Heat, only Mary and Elizabeth are allowed to stand out with their costuming. Everyone else is in dark, earthy tones that let them fade into the background, their protestations and scheming seemingly assigned at random. That might have been the intent of the script – it doesn't matter which man denigrates Mary, just that it's a man – but it doesn't make for an entertaining experience, because so many characters seem interchangeable. It becomes confusing, as well as patently obvious as for whom the audience is supposed to root, and that just comes off as cheap. Plus, if you're going to go for the straight period costume piece approach, you already have a much better contender.
* * * * *
My Rankings:
1) The Favourite
2) The Ballad of Buster Scruggs
3) Black Panther
4) Mary Poppins Returns
5) Mary Queen of Scots
Up next: Keep your eyes on your own paper, unless you're going to turn it into an award-winning script. It's Adapted Screenplay!
Join the conversation in the comments below! What film gets your vote? Is there costuming that should have gotten nominated instead of these five? Seriously, though, what are those? The look comfortable! Let me know!