As a writer who aspires one day to hear his name called by the Academy, I take special interest in the Screenplay categories. I prefer Original to Adapted, because if there's one thing Hollywood needs more than ever these days, it's original ideas. But the adaptation process is also fascinating in its own way, because it's the more business-friendly side of the equation.
When you have an original script, it gets shopped around, hopefully it gets optioned and then made into a movie. With adapted material, you have to secure the rights to the source material essentially before you even type the cover page. That was certainly the case for one of the nominees in this year's field. But more importantly, the challenge with adaptation is creating something that stands out without betraying the source material. Sometimes that means staying as true to your inspiration as possible. Other times it means taking something ordinary and making it extraordinary while still maintaining  credibility. Basically, if you can get the job, it's a pretty sweet gig.
This year's nominees for Adapted Screenplay are:
Joel and Ethan Coen – The Ballad of Buster Scruggs
There are several sources for this film, as it contains six distinct stories. "All Gold Canyon," featuring Tom Waits as a prospector, was originally written by the great Jack London. The longest segment, "The Gal Who Got Rattled," starring Zoe Kazan, was written by Stewart Edward White. The other four were short stories written by the Coens themselves. So for 2/3 of the film, they certainly knew the material.
Because each story takes a vastly different thematic path, the key to the script is selling the tone of each story in a short space of time, so that each segment is memorable. And in that vein, they certainly succeeded. I've only seen the film once, yet I remember each story as clearly as if I was watching it right now. Buster Scruggs singing and shooting, James Franco's run of bad luck that would put Murphy's Law to shame, a limbless Harry Melling orating at the top of his lungs, the almost River Styx-ian carriage ride, all of it is crystal clear in my mind. If there's a flaw to be had, it's that the dialogue itself isn't exactly memorable. I don't recall any one line making me laugh or turn my head more than any other. Nothing really sticks out in that respect. But this is very much a visual movie, and that's just fine. Dialogue is only half the script, after all.
Charlie Wachtel, David Rabinowitz, Kevin Willmott, and Spike Lee – BlacKkKlansman
This is a perfect example of making the ordinary extra. Ron Stallworth's memoir about being the first black cop in Boulder, CO and infiltrating the KKK is compelling, but very by-the-numbers. In fact, critics have argued that the book is downright boring. And that's where a visionary like Spike Lee and his crew come in. He's one of the few people who can turn "Based on a True Story" into "This was some fo-real, fo-real shit!"
Not only are Lee's signature stylistic touches all over this joint, he also keeps it funny, grounded, and realistic. Yes, there are times when the movie almost feels like a modernized Blacksploitation film from the 70s, but those moments are used to inform Stallworth's character, giving him more depth. Also, it has to be said that the dialogue is fantastic. The interactions between Adam Driver and Ryan Eggold are hilarious. The racist pillow talk between Jasper Pääkkönen and Ashlie Atkinson is cringe comedy gold. And of course, you can't discount the glee we in the audience feel when John David Washington converses with Topher Grace's sniveling take on David Duke. It all makes for an amazing transformation of the source material.
Nicole Holofcener and Jeff Whitty – Can You Ever Forgive Me?
I almost wonder if there's any controversy attached to this nomination. When Lee Israel's memoir came out about her forgery, it became a best-seller, but garnered a lot of criticism from fellow writers and academics because she was essentially getting paid off for her misdeeds. At least in this one instance, crime did pay in the end.
As for the actual script, it's fantastic. The biting, cynical interplay between Melissa McCarthy and Richard E. Grant is equal parts down to their spectacular performances and the material they had to work with. Plot-wise, there are a couple of moments that rely too heavily on coincidence and convenience, and the subplot about trying to date the bookseller didn't quite land as well as I'd have liked, but the material is more than solid, and again, the actual spoken words are as well written as any farce or satirical novel.
Barry Jenkins – If Beale Street Could Talk
This was a very difficult and ambitious follow-up to the Oscar-winning Moonlight. Never before had James Baldwin's estate allowed one of his fiction novels to be adapted into a movie. It's down to Jenkins' skill as a storyteller and as a filmmaker that he was even able to get permission to do this in the first place. As such, the care with which he had to write this adaptation was of paramount concern. Rarely has it been so important to get it right.
And get it right he did. Baldwin's poetic voice and lyrical prose permeates every frame of this film. From the dialogue, to the staging, to the plot itself, everything about this film seemed like the perfect marriage of creators. Jenkins made sure that Baldwin's masterful control of language and story was as in your face as the actors being shot in extreme close-up, making eye contact with the audience. In doing so, not only did Jenkins tell a great "black" story, he simply told a great story, and I still say it's a traveshamockery that this wasn't nominated for Best Picture.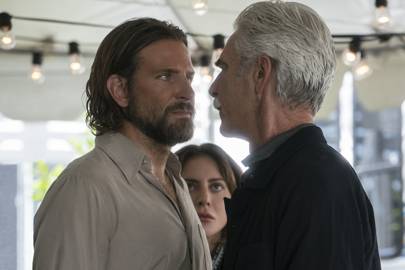 Eric Roth, Bradley Cooper, and Will Fetters – A Star is Born
I've seen all four versions of this movie, and while I'm not a fan of remakes, I'll grant that this was well-made. Out of the four, I'd rank it third. I swear by the 1954 version as the best of all, then the original, then this, and finally the 1976 version with Barbra Streisand and Kris Kristofferson.
Sadly, because this is the fourth version of this movie, it had the hardest challenge with the adaptation. It's been done three times before, so what does this one bring to the table to differentiate itself? Well, from a script standpoint, not much. The plot is essentially the same, just with a few Gaga-esque flourishes like the drag bar, and the suicide isn't the same as previous versions, but that's about it. This isn't the first time the titular star was a singer instead of an actress. This isn't the first time that alcoholism was the chief vice. There are a lot of ways in which this script is just a rehash of the previous films. There's a lot to like in the film – not necessarily to Oscar level, but still likable – but the script isn't one of them.
* * * * *
My Rankings:
1) If Beale Street Could Talk
2) BlacKkKlansman
3) Can You Ever Forgive Me?
4) The Ballad of Buster Scruggs
5) A Star is Born
Next up: これをコピーしてGoogle翻訳に貼り付けるか、このメッセージの内容を推測してください。外国語の時間です!
Join the conversation in the comments below! Which of these scripts is your favorite? Have you read any of the source material? Who would you trust to gussy up your life story into a Hollywood blockbuster? Let me know!