"This is my 19th album, and I'm still writing songs about cars."
So says the legendary Bruce Springsteen in the new music documentary/concert film, Western Stars, a performance of his latest album of the same name. Inspired by what he calls "Southern California pop music" infused with heavy country influences and his usual heartfelt empathy for the working class (in this case desert cowboys and old time Hollywood), the album is a collection of searing ballads and laments that – like that quote – is about as on brand for The Boss as can be. The main difference here is that apart from his wife, Patti Scialfa, the E Street Band is nowhere to be seen.
Instead, Springsteen and longtime collaborator Thom Zimny opt for a much more intimate setting than the usual arena dates. The barn on Springsteen's California ranch is repurposed into a bar big enough to hold a few of his nearest and dearest, as well as a 30-piece orchestra, all while his horses rest below.
The film is, at its barest elements, a track-by-track performance of the new album, and cynically one could dismiss the entire thing as just a ploy to increase sales (especially since Bruce has said he won't be touring for this one). But that would be to miss the point entirely, especially if you know anything about Springsteen and his very non-corporate style. Because after more than four decades, one of the things everyone understands about Springsteen is how personal his music is, how wistful, how connected he is to the common person. We literally just had a fictionalized movie earlier this year to that effect. And now, for really the first time (apart from CD-ROM features on his album "Devils and Dust" that didn't really take off thanks to the failure of the "Dual Disc" format), we get to hear his thought process, his inspirations, and immediately see the passion with which he creates his art.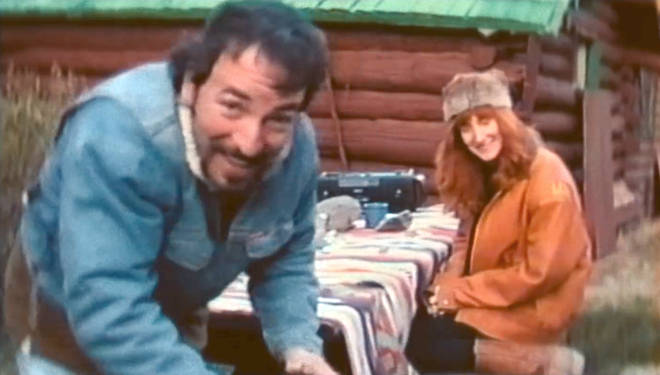 Every track is preceded by a small vignette of Bruce explaining his motivations and writing process. The performances build almost like a classical story, rising in intensity (with brief dropoffs for dramatic effect) before climaxing around Track 10 ("Stones") or 11 ("There Goes My Miracle") depending on your personal tastes, then settling down for resolution. The story is one that evolves, and drips with nostalgia as Bruce waxes poetic. Even the music improves upon itself, with Bruce noting in a post-credits featurette that Patti didn't sing on "Stones" for the album, but for the film it's essentially a duet, and he feels that's the better version now.
There is a good deal of insight to be had into Bruce's life, and honestly, I think this makes for a good double feature with the other great concert film this year, Amazing Grace. It wasn't just that Aretha Franklin's voice was so powerful, it's that we got to see her in an environment she loved dearly, seeing the church's influence on her as a person as well as fostering her talents. The same holds true for Bruce here. We learn bit by bit why he will always write torch songs for the downtrodden, how much Patti truly means to him, how his own take on faith drives him. I've mentioned before that I'm by no means religious, but I certainly get where both artists are coming from, and their music to me has always felt like a spiritual experience, even if I don't subscribe to any particular doctrine.
Will this film win Bruce any new fans? I certainly hope so. But like a lot of other films, when you have a built-in loyal following, that doesn't necessarily matter. This is a film for all of us who've benefited from his music over the last 40+ years (God it's hard to believe he's 70; the man doesn't look a day over 45). There have been several times when he's helped us get by without even knowing it, but we in turn have helped him get by, and this film is just a little bit of a thank you, and it would be well-received and appreciated even if every song on this album was abject shit. Spoiler alert: they're not.
Grade: B+
Join the conversation in the comments below! What film should I review next? Do you enjoy concert films more than normal music documentaries? How long do you think it took me to buy the album after seeing this? Let me know!