Just over a week ago, I completed my annual quest to see all of the shortlisted entries up for the Oscar for Documentary Feature. I recapped the journey here on the blog, and gave my alphabetical top five, i.e. the films I would nominate were I a member of the Academy's Documentary Branch. But the biggest thing that struck me about this year's set was that there really wasn't a truly bad movie in the bunch. Sure, there were a couple that I didn't think deserved to be nominated, but all the same, the field all had quality, so no matter who eventually got the five nods, I wasn't going to be all that pissed off.
That said, I still think the Doc Branch got it wrong. As usual, their penchant for eliminating crowd-pleasing or audience accessible films continued unabated. That means no further consideration for The Apollo, Apollo 11, and The Biggest Little Farm. Honestly, I wonder why they even bother shortlisting them if they're always going to get knocked out. Also, continuing an almost quixotic trend for the past few years, both films dealing with the civil war and humanitarian crisis in Syria did get nominated, as has every shortlisted film on the subject since 2017. Sadly, it's like they think that mere exposure to the problem – or an Oscar – can fix the issue, and they'll keep shoving it down our throats until the world changes. And I say that fully aware that my pick in the category is one of these two films.
On the positive side, this is one of the few categories where women get decent representation. In fact, all but one of the nominees focus on women, and there's at least one woman named on the nomination slate for every film. Literally, outside of the acting categories, I think this is one of maybe three where a woman is guaranteed to win something. While I doubt that was on the Branch's minds while nominating, it's still a net plus.
This year's nominees for Documentary Feature are:
American Factory – Steven Bognar, Julia Reichert, and Jeff Reichert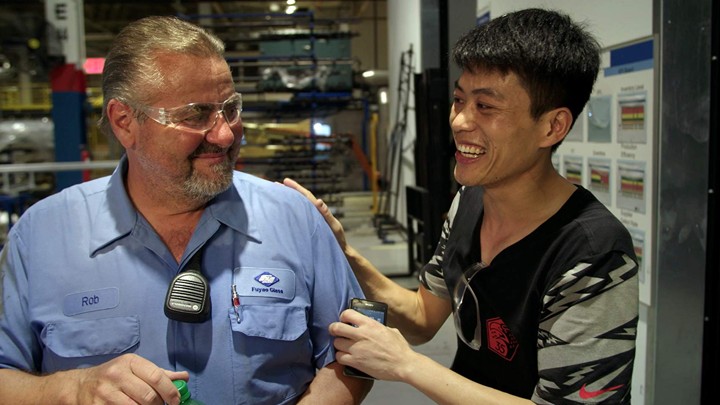 All but certain to get some major attention and some votes purely from the fact that it's on Netflix and it's being distributed by the Obamas. Of this year's set, this is likely the simplest of the films on a thematic and story basis. In Ohio, a shuttered General Motors plant is reopened by Chinese company Fuyao. Many of the displaced workers are hired by the new company, but at a significantly lower salary than they had as UAW workers for GM.
Taking a fly-on-the-wall approach, the film gets surprisingly in-depth access to the goings on at the plant, particularly the aggressive anti-labor practices, including firing workers who raise safety concerns, seducing the American management with an almost literal dog-and-pony show in China, and hiring PR consultants to convince the workers not to unionize. It's an unflattering look at corporate America through the lens of corporate China, and while it's enjoyable when the focus is on the actual people doing the job, the greater machine holding them down is outright depressing.
The Cave – Feras Fayyad, Kirstine Barfod, and Sigrid Dyekær
The first of the two Syria documentaries, The Cave is an intriguing look at a unique method of survival in the capital of Damascus. As the shells fly constantly outside, a team of doctors led by a pediatrician named Amani Ballour operate a makeshift underground hospital – figuratively and literally – inside subterranean tunnels. A companion piece to Last Men in Aleppo, which was nominated two years ago (I didn't care for it, I felt it was just a feature length version of the Oscar-winning short, The White Helmets), director Feras Fayyad once again finds a lens through which to show the horrors of the ongoing conflict and the innocent lives caught in the crossfire.
The best parts of the film are when Dr. Amani runs the hospital. She's cool, collected, and will not suffer any sexist bullshit from fundamentalists who think she should be at home pumping out babies. In fact, given the circumstances of the war, she's against religion and childbirth full stop. There's also a sweet running line where she talks to her parents over the phone, and they constantly ask her to come back to her hometown, as she has a garden of plants that "miss her." It's a cute way for Fayyad to show us that even in this Hell, life finds a way.
Where I didn't really engage were the moments when Fayyad tried a bit too hard to make this into a more Hollywood friendly production. He uses CGI and visual effects to demonstrate the shelling while panning down from rooftop level to the underground hospital, for example. Also, while Dr. Amani's feminism is appreciated and needed, the fact that he had to set up a sequence where she makes house calls outside the hospital to drive it home didn't really work for me.
The Edge of Democracy – Petra Costa, Joanna Natasegara, Shane Boris, and Tiago Pavan
When former Brazilian Presidents Lula de Silva and Dilma Rousseff had their individual falls from grace, our news media didn't cover it very thoroughly. That's not surprising, as the average American couldn't give two shits about world affairs. But all we were told was that they were impeached/removed/arrested for "corruption," and we basically accepted that.
The Edge of Democracy gives lie to the bullshit, and explains the political jockeying and warped systems that led to these results, and why they should be looked upon in suspect. I still don't know all the details of "Operation Carwash" or the other scandals that eventually enveloped these two, but the film paints a compelling picture about how the process might have been just as corrupt as the charges themselves, which offers parallels to our current sociopolitical crisis by showing us what it really looks like when a president is impeached "to overturn an election." If nothing else, it is really fucked up that in Lula's trial, the prosecutor was also the judge.
For Sama – Waad Al-Kateab and Edward Watts
I've been singing this film's praises since I saw it nearly two months ago. The first Syrian documentary to feature a badly needed feminine perspective, this video diary of Aleppo's destruction framed as a love letter to an infant is simultaneously heartwarming and harrowing. Like Dr. Amani in The Cave, I too wonder how anyone can think of conceiving a child in a warzone like Waad and Hamza did. At the same time, though, it oddly adds to the human element of the film. I'm guessing they didn't plan on having children, but the love and light that Sama's mere existence brings to one of the darkest periods in human history retroactively justifies it all.
The film to me also serves as quite possibly the purest documentary of the entire field, both nominees and shortlist, because Waad is a journalist doing what journalists do best. When the story breaks – in this case all the goings on she survived in Aleppo – you simply pick up a camera (or a notepad, microphone, etc.) and just let the story speak for itself, even if your choice to remain present in the situation defies all logic and instinct. From the spartan quarters above Hamza's hospital, Waad is more observer than anything else, giving us the images without a core narrative or thesis statement, only the juxtaposition of what is versus what was. Sama was born into a world of chaos, but one day she will know peace, and the fact that her mother had the wherewithal to make this record of their lives before the child even has object permanence is a testament to the dedication of someone committed to the truth, both for our sake and for the sake of the next generation.
Honeyland – Ljubomir Stefanov, Tamara Kotevska, and Atanas Georgiev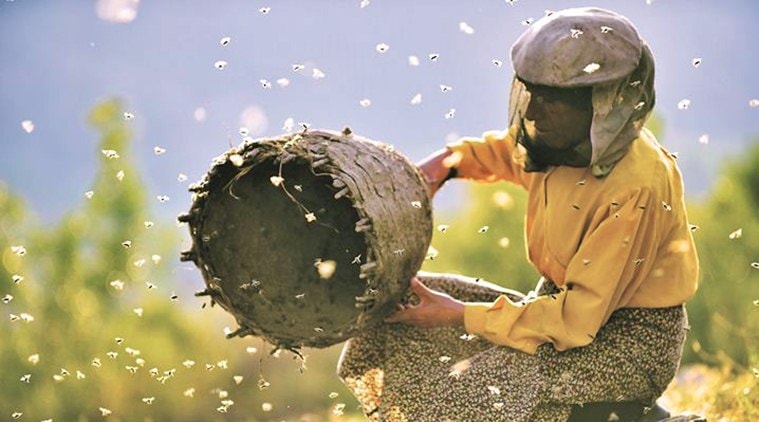 Nominated here and for International Feature film, the North Macedonia submission, Honeyland, is a an observational set of opposing forces. Central focus is on Hatidze, who harvests honey from local bees in natural hives she maintains inside rocks and trees. Her life, and her eventual conflict with a nomadic family of cow herders, is a series of juxtapositions: Tradition vs. Technology, Subsistence vs. Capitalism, Patience vs. Haste, Woman vs. Man.
In almost all cases, the patriarch of Hatidze's new neighbors represents the folly of toxic masculinity. He wants quick cash, not a sustainable apiary. His recklessness not only costs him whatever profits he might have made, but nearly destroys Hatidze's hives in the process. Every time she offers to help, his foolish confidence leads to setback after setback. The film isn't saying that Hatidze's life or methods are perfect. She's basically miserable and barely getting by. But when you have generations of method to her madness, at least her misery is chosen, and certainly in this case, it does NOT love company.
* * *
As I've done the last couple years, and as promised in my previous "Back Row Thoughts" column breaking down the shortlist, I will offer not just my personal ranking of the nominated films, but the overall rankings of all 15 entries. If you read the other post, you'd know that only For Sama made my personal top five, so obviously it's my pick in the category. But how did it do overall, and how does the rest of the field stack up, especially when the bulk of them got solid B grades from me? Well, here's the list, with the nominees in bold.
My Rankings
1. For Sama
2. Apollo 11
3. Knock Down the House
4. The Great Hack
5. Maiden
6. The Cave
7. The Apollo
8. American Factory
9. Aquarela
10. Honeyland
11. The Edge of Democracy
12. Advocate
13. The Biggest Little Farm
14. Midnight Family
15. One Child Nation
Of this entire set, I'd argue only the bottom three didn't deserve a nomination. But as I've said time and time again, all of these films are good, and a few are even truly great. I encourage you to track down the whole list, because they're all worth seeing.
Up next: John Lithgow turns into Jabba the Hutt and Angelina Jolie tries to stab us with her cheekbones. It's Makeup & Hairstyling!
Join the conversation in the comments below! How many documentaries did you see? Which was your favorite? Just how well and truly fucked is Syria? Let me know!