In many a year at the Oscars, the Screenplay categories tend to act as consolation prizes to films that will be left in the cold when it comes to Best Director or Best Picture. But sometimes, the Academy doesn't even get the chance to apologize that far. This was the case two years ago. Both Greta Gerwig and Jordan Peele were up for Best Director and Original Screenplay. Now, for whatever reason, the Academy decided well in advance that Best Director would go to Guillermo del Toro. Despite the fact that his film was about a lady fucking a fish, they basically decided it was his turn to win. That meant that Gerwig and Peele had to fight it out for Original Screenplay. Peele got the win, making him the first black man to win the category. Gerwig went home empty handed.
This year, there is even more snubbing of Gerwig, in that she was left off the Best Director slate. I won't call bias or sexism or any other epithet, but I will say it was unfortunate, and that I would have nominated her without a moment's hesitation, as I believe she truly did one of the five best jobs as a filmmaker last year.
Given the backlash at her being left off, I think we can all but assume that Adapted Screenplay is hers to lose. Again, it will be a consolation prize, not just for Little Women almost assuredly not winning Best Picture, but for the personal omission of Gerwig from Best Director this year, and for shutting her and Lady Bird out two years ago.
The category may be a foregone conclusion, but does that mean that Little Women is the best script in the set? In most years it would be an absolute yes, but this year, I honestly have to take a step back and consider the other contenders. Normally Original Screenplay is the big competition as far as quality is concerned, but this year, if there were no politics involved, you'd have three legitimate heavyweights duking it out for the prize on the Adapted side. And outside of those three, you really wouldn't be able to discount the other two. One leads the way in total nominations, and the other is somehow a darling of the Academy given its lead actors. So while the result may be in the bag, we can't just automatically assume that the likely winner is the best of the field. So let's dive in and have a look just to be sure.
This year's nominees for Adapted Screenplay are:
The Irishman – Steven Zaillian (adapted from I Heard You Paint Houses by Charles Brandt)
The beauty of the script for The Irishman ultimately lies not in what is said, but in what isn't said. I mean this on two semi-literal fronts. First, while the dialogue is superb, there's a lot that's said without words that speaks volumes. The knowing silences and glances in different directions, coupled with uncomfortable pregnant pauses in the speech we do get gives us a lot more information about the characters than straight dialogue can in some places, and it's to Zaillian's credit that he knows where to put those moments.
The other bit of inspired silence comes in the form of hasty exposition of real-life gangsters introduced as side characters throughout the film. Just about everyone that Robert De Niro encounters, at least everyone who was an actual person, gets a quick chyron telling us who they are, what their major crime was, and their ultimate fate, all within a few moments of meeting them. It gives us crucial context without dragging the already 3.5-hour proceedings any further. It's an efficient, but oddly enjoyable trick of the script that I wholeheartedly support.
Jojo Rabbit – Taika Waititi (adapted from Caging Skies by Christine Leunens)
If I am correct in my presumption about Greta Gerwig, one could argue that Taika Waititi is this year's Greta. A well-known and accomplished young actor and filmmaker comes out with a stellar project that ultimately falls short in most, if not all, of the Oscar races. Pulling triple duty as writer, director, and imaginary Hitler, Waititi delivers an absolute cracker of a satire that sadly seems to be fated to be an overlooked footnote at this year's ceremony.
Because while this wouldn't get my vote if I had one, I still thoroughly enjoyed the witty, crisp writing of this film. The satire may seem obvious, but sadly we live in a world where the patently obvious – like, say, NAZIS BAD! – needs to be stated, and Waititi does what's necessary to great effect. He wrote charming characters, particularly Thomasin McKenzie, the jokes are on point, and as a giddy yet abusive fool, his take on Hitler was quite funny, particularly a cutaway gag where he's eating a roast unicorn. I wish we didn't live in a society where such "smack you across the face" morality is needed, but here we are. And if we're going to do it, might as well do it right, and what better way than a doorway dance with David Bowie being sung in German?
Joker – Todd Phillips and Scott Silver (adapted from characters created by Bill Finger, Bob Kane, and Jerry Robinson)
This film can't be entirely discounted, as Joker leads the way this year with 11 nominations. And as far as origin stories go, this is one where you had the most freedom to be creative, as there is no official backstory for the Joker. There have been several adaptations in film, animation, and comic books over the years posturing on how the Clown Prince of Crime came to be, or even what his real name is. In one such story, the man himself even cracked wise about his own beginnings, saying that he'd like his origin to be "multiple choice."
That's why, sadly, I actually have to dock the film in this category. You literally had limitless possibilities to explain the Joker, and while this film does an adequate job, largely down to Joaquin Phoenix's performance, the story is basically a rip off of Taxi Driver and The King of Comedy. Don't get me wrong, I love both films (I'm a big Scorsese fan), and the homages were appreciated. But in my eyes that all but disqualifies you from this category. The film does well to make up a lot of lost points with clever dialogue, especially when it comes to Arthur Fleck's relationship with his neighbor, played by Zazie Beetz. But if you're going to adapt something, give all credit where due. The official listing gives credit for the character, but not the thematic and story inspirations.
Little Women – Greta Gerwig (adapted from Little Women by Louisa May Alcott)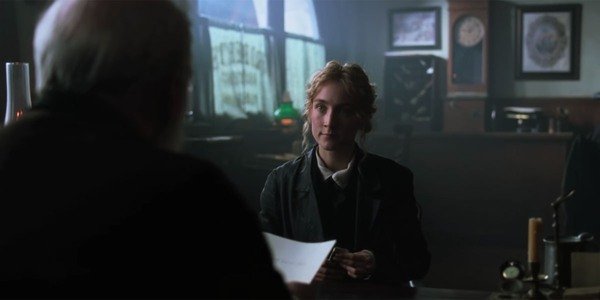 Okay, fine, I admit it. Even if this wasn't already nearly clinched for Gerwig, it'd still get my vote. This is hands down the best script of the entire year, Original or Adapted. I will be absolutely stunned if she doesn't win, not just because the politics and patterns point to it, but because she absolutely deserves it.
So much can be said about the characterization, the brightness of the story, and of course, the wonderful performances. But really, the one decision I want to focus on is the story structure. Adapting the book and presenting it in a non-linear format was just about the smartest creative choice that could have been made. So much of the March sisters' stories flow into each other and connect on thematic levels, that it made all the sense in the world to make this script into one that highlights those very connections. A happy day at the beach when the girls are younger vs. Jo and Beth together as the latter prepares for the inevitable is inspired. Jo dancing with Friedrich in New York set against her first dance with Laurie is an utter delight. Seeing Laurie flirt with Amy in France juxtaposed with his refusal to flirt with Meg at the debutante ball is an expert contrast in character studies. And yet through it all, the story never once gets confusing or derailed. That is the mark of a truly great writer, and God damn the Academy if they don't give Greta her due.
The Two Popes – Anthony McCarten (adapted from his play, The Pope)
I'm not going to spend too much time on this entry, as I honestly don't believe it's worthy of consideration. I'm always skeptical of playwrights who adapt their own material for the screen. In the rare case of Moonlight, it can be truly amazing, but most of the time, it just smacks of vanity.
And really, The Two Popes sounds much better as a stage play. It's very dialogue-heavy and dependent on the two leads playing off one another. Much of the dialogue even reads like it should be in a small box theatre off Broadway rather than in a recreation of the Sistine Chapel. It's smart dialogue, surely, but it's the kind of smart that intellectuals and academics like to debate over, not the kind of smart that works in cinema. I've said it before, but the whole thing just feels like a clergy version of My Dinner with Andre, and not in a good way.
My Rankings
1. Little Women
2. The Irishman
3. Jojo Rabbit
4. Joker
5. The Two Popes
Up next: Joe Pesci and Al Pacino are about to go toe to toe in the way we always imagined… a contest to see who will come second to Brad Pitt. It's Best Supporting Actor!
Join the conversation in the comments below! Which of these scripts is your favorite? Do you agree with the nominations? Are you psyched for a Jojo sequel where Taika Waititi plays Pol Pot? Let me know!