Every year I strive to see all nominees in all categories. This year, that lofty goal was long in doubt, due to the one category that does not require films to be screened locally at all, the newly renamed International Feature.
Most films submitted to the Academy have a fairly standard keystone eligibility rule, and that is that they must be screened for seven consecutive days in a public theatre in Los Angeles during the calendar year. One week, in L.A., open to the public. That's it. No matter how great or terrible a movie is, that's really the only hurdle they have to clear to be eligible.
However, there are two groups that have exceptions to this rule. The first is the three Short Film categories. While it's really nice if they adhere to the general screening rule, they basically just have to appear at sanctioned film festivals. This makes sense, as shorts aren't the movie-going standard they once were, back in the days where they preceded and even aired in between features-length movies.
The other exception is International Feature. Aside from the requirement that at least 50% of the dialogue has to be in a language other than English (you know, like, a FOREIGN LANGUAGE!), their calendar and screening requirements are different. Strictly speaking, an International Feature entry never has to be shown in the United States. It only has to be shown in its home country, where the domestic governing body will nominate it and submit to the Academy. Also, while American films have a calendar year requirement, International fare has an October 1-September 30 rotation.
The entire Academy can nominate for this award once the list of approved submissions is released. At that point, since many films don't have a distributor in the U.S., members only watch via screeners (either on DVD or online), or at special theatre engagements that are closed to the public. From there a shortlist of 10 films is decided. Five are simply the top five vote-getters among those who bother to nominate. The other five are selected by a small committee as a means to promote otherwise overlooked countries. From that point, it's a simple top five vote among the shortlist, again from screeners.
This resulted in a nomination slate where two films got major releases, two others were limited (though with the marketing arm of Amazon behind one of them), and one more that is not scheduled to be released in the United States until February 28, nearly three full weeks after the Oscars have been handed out.
That film, Corpus Christi, submitted by Poland, became my White Whale. Surely there would be some way to see it before Oscar Night, even if its international distributor wasn't going to get it in theatres in time. After doing some lengthy research, I had nearly lost hope. As of last Wednesday, I could only find five instances where it played anywhere in North America.
It debuted on this continent at the Toronto International Film Festival back in September. No help there.
It was shown at AFI Fest in Los Angeles in November. Still no help.
It played at the Polish Film Festival in Los Angeles back in December. Helpful? Nope.
On January 2, it played at a special screening by the Malibu Film Society. It wasn't a nominee at that point (though it had been shortlisted), so I wasn't really on the lookout. I could have seen it then had I been a bit more prescient.
On January 15, two days after it was nominated, there was a special screening at USC that had absolutely ZERO advertising.
I was at a loss. Was this how my streak of seeing all the nominees was going to end? I knew I'd eventually see it, even if I had to wait until after the Oscars to do so, which I guess would count as seeing everything, but with an asterisk. I kept searching, even going to some torrent and pirating sites (I'm no angel) in hopes of finding something. I was even hoping YouTube might come through, as occasionally people post full movies on there, even though they quickly get taken down on a copyright strike. Back when I was looking for Animated Feature submissions, I briefly considered watching China's submission in both categories, Ne Zha, as it was on YouTube without subtitles. If it came down to it, I was prepared to take that route as a last resort, hoping either film would get enough across visually for the language barrier to not matter. Failing all that, I was prepared to do this blog entry next week as an incomplete, before moving on to Best Picture.
But then, one week ago, I found a lifeline. The Landmark Theatres, a national chain that shows a mix of commercial and independent fare, has a local weekly program called "Reel Talk," which includes special screenings of independent and foreign films, with Q&A sessions afterwards. I never paid much attention to it, as it's normally a subscription series (something like $150 for the year) that charges way over the odds if you just want to see a single screening ($30). But I looked at the schedule, and there it was. January 27, 7pm. Literally the last showing of the current "Reel Talk" cycle. Corpus Christi. I shelled out the $30 faster than the Road Runner on meth. I got to see the film. I didn't stay for the Q&A (with Producer Leszek Bodzak and Lead Actor Bartosz Bielenia), mostly because I went to the theatre straight from work and I still had a ton of stuff to do at home – including last night's blog – if there was any hope of getting to bed before midnight (I hit my lights at 12:15). But I saw it. My streak is intact. When the Shorts come out on Friday, I'll be able to see them all in three separate screenings and complete the nomination slate once again.
I feel like I've taken my own trip around the world, so it's only appropriate that we consecrate the odyssey by paying due respects to this field as quickly as possible after completion.
This year's nominees for International Feature are:
Corpus Christi – Poland (Directed by Jan Komasa)
After the great lengths I went to in order to finally see this film, I only have one thing to say. It was worth it. Okay, I have more to say, but you get my meaning.
Bartosz Bielenia stars as Daniel, a young man in a juvenile detention facility who has an affinity for religion (making him the target of the rougher inmates), and who actively assists the visiting priest, Father Tomasz (Łukasz Simlat), in performing Mass. When it is time for his release, Daniel wants to go Seminary to become a priest himself, but Father Tomasz informs him no school will take a convict. He is then sent to a remote small town to work in a sawmill, but instead lies to the local parish and claims to be a priest on a pilgrimage. When the town's vicar falls ill, Daniel adopts Father Tomasz's name and takes over priestly duties for several weeks, including moderating a dispute in the town between the grieving parents of six teenagers killed in a car crash and the widow of the man in the other car, also lost in the accident.
The film offers a lot of theological questions through Daniel, himself an allegory for the Biblical prophet who was thrown to the lions for praying, with the film's bookends, depicting prison brutality, serve as visual metaphors. Can one truly come to faith through a lie? Which sins are greater than others? Can you call yourself godly and righteous when you ostracize others? In a country as heavily Catholic as Poland, the social, political, and spiritual implications are quite compelling. Bielenia also gives a brilliant performance as Daniel, one who demonstrates the ideals of the Church, but could never actually take the Holy Orders, not just because no Seminary would take him, but because he is all too human and fallible. A vivacious young man, he connects with the youth of the town because he is one of them, but he is also just as susceptible to vices like sex and drugs as any other person his age. No matter his intentions, if he were to become a priest, he would likely be corrupted by his own desires. Bielenia conveys this nuanced contradiction with great skill, showing everyone that "good" does not mean "perfect."
Honeyland – North Macedonia (Directed by Tamara Kotevska and Ljubomir Stefanov)
No matter what happens on Oscar Night, the Macedonian submission, Honeyland, will go down in history. It is the first film ever to be nominated both in this category (regardless of name) and Documentary Feature. There have been examples where a submission for International Feature was nominated by the Documentary Branch (most recently Italy's Fire at Sea), but those films did not make the final cut for the foreign prize.
I've said a good deal about Honeyland, so I won't harp on it much further. Suffice to say, it's a wonderful documentary about how a lack of patience combined with misplaced, gender-based overconfidence can not only lead to your own downfall, but also to the misery of others. Focal point Hatidze is a simple, good, tragic figure, literally the last of a dying breed of natural beekeepers. Despite her hardships – financially, technologically, and maternally (she's the sole caretaker for her decrepit mother) – she's still a kind, good-hearted, and skillfully resourceful person. She's willing to help a family of nomads who move in next door to form their own apiary, but no matter what she does, the family patriarch asserts his dominance and superiority, even when it's clear that he has no earthly idea what he's doing. Seeing the dangerous lengths Hatidze casually goes to in order to perform her craft is an inspiring sight, and the visual juxtaposition between her naturalism and her neighbor's consumerism makes for a poignant parallel to the world at large.
Les Misérables – France (Directed by Ladj Ly)
While not a straight retelling of Victor Hugo's classic novel, the modern Les Misérables is by design a spiritual successor. Set in the city where Hugo wrote the book, the film is a treatise on class warfare, racism, and the ongoing struggles between police and civilians.
Presented as sort of a French version of Training Day, the film sees Stéphane Ruiz (Damien Bonnard of Staying Vertical and Dunkirk) joining a new police unit, where he patrols with two plain clothes officers, the moderately chill Gwada (Djibril Zonga), who grew up in the city, and short fuse Chris (Alexis Manenti), who looks and acts like a skinhead, but really he's just a swinging dick who likes to wield power, as evidenced by a shakedown of teenage girls that borders on sexual assault.
The crux of the film is a troubled youth named Issa (Issa Perica), who constantly gets into trouble, running afoul of the police, a local gang leader called "The Mayor" (Steve Tientcheu), the overly protective Muslim Brotherhood, and a band of circus performer gypsies when he steals a lion cub called Johnny for the purposes of social media posting. As all sides converge on him, Issa and his band of misfits stage mini riots to confound their pursuers, until Gwada fires a flashbang that nearly kills him. All would be over were it not for another teen, called Buzz (Al-Hassan Ly), filming the whole thing with his drone.
The whole thing shifts into a power struggle for the footage as well as the territorial rights of all involved, with everyone ignoring the power of the united children as a threatening force. As lines are drawn and lives are thrown into the balance, the sheer amount of cruelty and hormone-driven revolution reaches a tipping point where you could almost hear faint echoes of "Do You Hear the People Sing?" in the background, and you get a rich sense of irony at the fact that all of this began with a truly joyous moment, namely France winning the 2018 World Cup.
Pain and Glory – Spain (Directed by Pedro Almodóvar)
In a brilliant and heartbreaking bit of autobiographical art, Spanish auteur Pedro Almodóvar lets us into his mind and his heart with Pain and Glory. Loosely based on his formative years and his career as a filmmaker, the director uses his most beloved actor, Antonio Banderas, as his personal avatar, explaining how he became a filmmaker, what acting and great storytelling means to him, and his sexual awakening and coming to terms with being gay.
While the film is mostly seen through rose-colored glasses, Almodóvar does go for a sense of verisimilitude, casting his usual actors (Banderas and Penelope Cruz chief among them), creating a b-story about an estranged relationship with an actor that mirrors a temporary falling out he had with Banderas, and even using his own apartment to film. It all lends a degree of credibility that other such films wouldn't otherwise have.
Just like Honey Boy did for Shai LaBeouf, this film serves as a kind of art therapy for Almodóvar, and in that respect, it's to be lauded. It takes a lot of guts to open yourself up to such scrutiny. A lot of the grander concepts are a little too "inside Hollywood" to completely get across – which is ironic as Almodóvar despises the Hollywood system – and some of the more momentous scenes are so coincidental as to become a trope (Banderas himself even comments on it). But even so, it is a worthy entry and a celebration of that which makes us who we are, and that which drives us to leave a grand legacy.
Parasite – South Korea (Directed by Bong Joon-ho)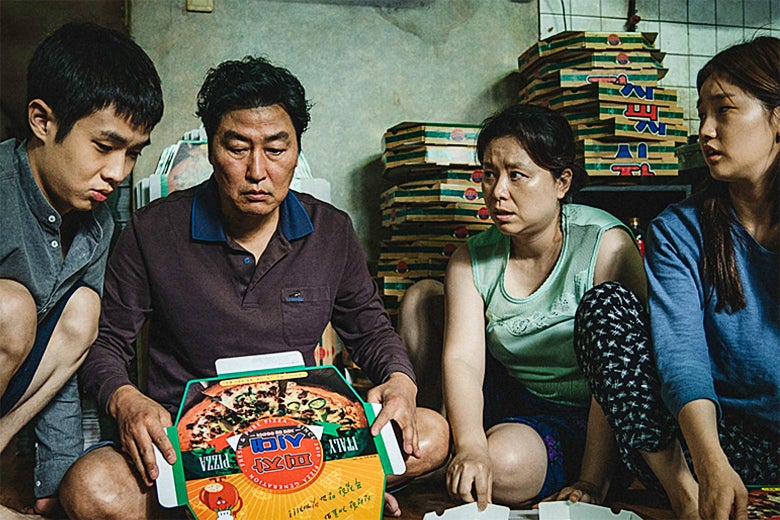 It is still utterly baffling to me that it took this long for South Korea to get a nomination in this category. Year in and year out, South Korea remains one of the top markets for cinema, a position it's held for over 20 years. And yet, this is the first time the Academy saw fit to recognize the quality coming out of the country. But at least they did it right when they finally came around, because not only is Parasite the favorite to win, it's nominated in five other categories, including Best Picture. And rightfully so, because Parasite is not only the best foreign film, it may very well be the best film of 2019 full goddamn stop.
I've gone on and on about just how masterful Bong Joon-ho is at bending genre and how Parasite is the apex of this wonderfully niche skill. But one thing I haven't really focused on too much is the acting, which on its own is as stellar as they come. Song Kang-ho and Park So-dam are absolute treasures, with Song winning Best Supporting Actor in several minor circuit ceremonies, including the Los Angeles Film Critics Association. Similarly, Cho Yeo-jeong as the Park family's "simple" matriarch gives an absolutely gorgeous performance as the Korean version of a Real Housewife.
In a way, the cast puts on airs like they're acting in a Western film. Part of the reason foreign films are sometimes inaccessible to American audiences is because the performances can be stoic and straightforward, not demonstrating the emotion that we're more used to. Some see that as a plus. Antonio Banderas brings that up as "bad" acting in Pain and Glory. But Bong leans into it, giving American audiences a film that they can relate to and appreciate even if they don't understand the language or the core culture, showing that even though he considers the Oscars a "local" award, he knows how to play to that type of audience. Just one more master manipulation in a film that's chock full of them.
My Rankings
1. Parasite
2. Corpus Christi
3. Les Misérables
4. Pain and Glory
5. Honeyland
Next up: Ooh, pretty! It's Production Design!
Join the conversation in the comments below! Were you able to see any of these films? What was your favorite? What other countries have been sadly ignored by the Academy? Let me know!