No Oscars category breakdown today, but I still have several films to add to the official 2021 canon with reviews before the process is truly complete. In a previous installment of "Back Row Thoughts," we looked at three movies where their leads were nominated for Best Actress. So why not continue recapping highlighted films that share a theme? We've already tackled The Eyes of Tammy Faye before, but there are two more films up for Makeup & Hairstyling that I hadn't seen before the Blitz truly began. It's honestly kind of baffling that despite everything I saw last year, there were two categories where I was missing THREE nominees. Weird. Well, let's continue making up for lost time!
Coming 2 America
I honestly can't think of a less essential film for all of 2021. I love the original Coming to America. It's one of the funniest movies ever made, and a perfect time capsule for not just Eddie Murphy's comedy, but for Arsenio Hall as well. But more importantly, it was a complete story that never once called for a sequel. Sure it was possible, but there was no need, especially not 35 years later.
That said, for what it is, the movie's fine, but far from anything special. There's even meta dialogue within the film acknowledging that it doesn't need to exist. I'll admit I laughed a fair few times, and the makeup job was strong enough to fully trigger the nostalgia for the original, but beyond that, who honestly cares?
The plot, if you can call it that, rejoins Prince Akeem (Murphy) as he celebrates his 30th wedding anniversary to Lisa McDowell (Shari Headley). Akeem's father, King Jaffe Joffer (a returning James Earl Jones), is nearing the end of his life, and fears that Akeem will be seen as a weak leader, inviting a coup from rebel General Izzi (Wesley Snipes) of the painfully-named neighboring country, Nexdoria. He's the brother of the jilted Imani (Vanessa Bell Calloway), whom Akeem rejected for Lisa.
Part of the reason that Akeem is vulnerable is because he and Lisa have had three children, all daughters – Princess Meeka (Kiki Layne), Princess Omma (Bella Murphy, Eddie's actual daughter), and Princess Tinashe (Akiley Love) – and Zamundan law dictates that a man must rule the kingdom. If Akeem were to die without a male heir, Zamunda would fall to whatever strongman was able to seize power, hence the threat of General Izzi.
As Izzi plans to assassinate Akeem, he and longtime servant Semmi (Hall) return to Queens after a prophecy is given to them from the witch doctor, Baba (also Hall). It is revealed that before he met Lisa, Semmi took Akeem to a nightclub where they both got extremely shit-faced, and Akeem lost his virginity to a hooker named Mary Junson, played by Leslie Jones. She then gave birth to a son, Lavelle (Jermaine Fowler), and as such, Akeem has an ostensible heir who must be retrieved and brought to Zamunda to be groomed for the throne, much to Meeka's chagrin, given her years of training and skill. Lavelle works as a ticket scalper and all-around hustler, unable to get "respectable" work, as the likes of Colin Jost (playing a descendant of the Duke brothers from Trading Places in a nice reference) make all kinds of racist assumptions about him.
Akeem brings Lavelle home, accompanied by Mary and eventually, his "Uncle Reem," played by Tracy Morgan. Antics ensue. Izzi, in a second attempt to worm his way into power, offers Lavelle what Akeem once rejected, an arranged marriage into his family by way of his own daughter, Bopoto (Teyana Taylor), who is just as programmed for marital servitude as Imani was, though much hotter and able to perform seductive pop songs. Initially tempted by the wealth and power of his royal birthright, Lavelle accepts, but as time goes on, he finds himself more attracted to his royal groomer, Mirembe (Nomzamo Mbatha). Guess how everything turns out.
This story is bad. Like, really bad. The conflict is cheap, the issues at hand easily resolved (you would not believe how drawn out the affair gets before the obvious solution to the line of succession is decided as a throwaway line), and so much time is wasted on characters that just aren't all that funny. I love Tracy Morgan, but Uncle Reem just makes me uncomfortable, as he's a walking, talking ghetto stereotype with a name that's literally one syllable removed from the walking, talking stereotype from Song of the South. The same goes for Leslie Jones. She's hilarious, but it has to come in small doses, and Mary's eventual friendship with Lisa makes no sense whatsoever.
Almost all of the enjoyment of this film relies on nostalgia for the original, right down to superfluous scenes in the barbershop, church, and McDowell's, and the cringe-worthy return of Sexual Chocolate. The new cast adds almost nothing to the proceedings, save for a couple of interesting scenes as Lavelle takes his "princely" tests. But honestly, there's only one new scene that felt like it expanded on the fun of the first film, and that's King Jaffe's funeral, which he insists take place while he's still alive so he can experience it, only for him to die on cue once he's satisfied. That's a brilliant scene. It's funny, dark, and contains the over-the-top pageantry and production values that made the first film so memorable.
Apart from that, though, this is mostly a nothing film. It's not terrible, in fact it makes almost no impact at all, which renders it even more disappointing. Because if you're going to wait three decades for a sequel, why make it so utterly forgettable?
Grade: C
House of Gucci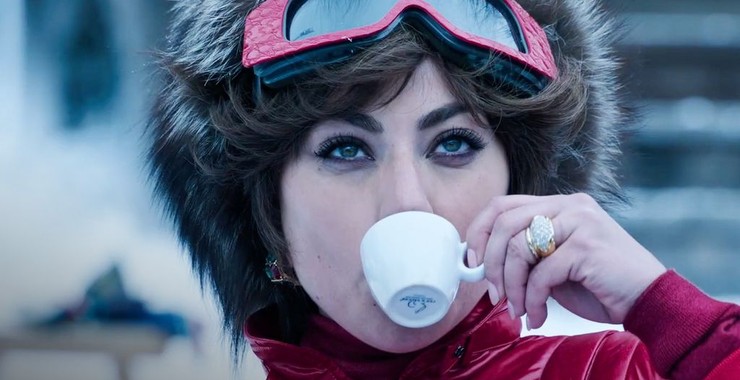 What in the ever-loving fuck is this movie? I've seen good movies, I've seen bad movies, I've seen so-bad-it's-good movies. This somehow tries to be all three at once yet somehow fails on every front. Can you believe there was a full-on Oscar campaign for this thing? I mean, there is a strong contingent of people legitimately pissed that it's not up for Best Picture, that Lady Gaga isn't up for Best Actress, and that Jared Leto isn't up for Best Supporting Actor (though he is up for Worst Supporting Actor at the Razzies).
Directed by Ridley Scott, the film opens with the old "Based on true events" line, which retroactively makes his "The Truth" declaration in The Last Duel even more glaring. But really, this is a highly fictionalized "black widow" story about Patrizia Reggiani (Gaga), who married into the Gucci fashion family and eventually murdered her husband Maurizio (Adam Driver). Scott tries to have the story play out like a campy take on modern-day Machiavellianism, but instead it comes off like a gratuitous hissy fit filled with unintentional humor.
It doesn't help that for the first two-thirds of the movie, Patrizia is literally never shown on screen unless she's wearing something that has her tits practically falling out. There's femme fatale, and then there's parody porn. Guess which side this falls on. At a party in 1978, she meets Maurizio, a bookish, shy young man studying to be a lawyer and having no interest in the family business. She immediately insinuates herself into his life, tempting him with her, let's say feminine wiles, to the point that he's prepared to marry her within days, much to the annoyance of his father Rodolfo, played by Jeremy Irons. Rodolfo disinherits Maurizio from his 50% share in Gucci for choosing Patrizia over the family, as he clearly sees that she's a gold-digger.
The pair marry anyway, and instead rely on solid connections to the rest of the family, particularly Maurizio's uncle Aldo (Al Pacino), who owns the other 50% of the fashion house. Through a series of manipulations so obvious only Anakin Skywalker would get fooled, Patrizia works Maurizio into a management role at the company, gets Aldo arrested for tax fraud, uses pregnancy to reconcile with Rodolfo, forges signatures to ensure Maurizio's inheritance after Rodolfo passes, and then tricks incompetent cousin Paolo (Leto) into a buyout, basically seizing control of the entire company. She somehow does all this through the counsel of a telephone psychic played by Salma Hayek (who works in Italy despite having an American 800-number), who eventually hires the hitmen responsible for killing Maurizio.
This only works if you laugh at how slapdash and absurd it is. For one thing, the timeline is completely fucked in this movie, as Patrizia and Maurizio's first meeting in the film comes five years after they actually met, their second daughter is never even conceived, much less mentioned, and investors force Maurizio out of the company a full two years after the date of his actual death. There's dramatic license, and then there's this crap. I mean, what reason could there possibly be for messing up the dates this badly? It can't be because of the soundtrack – which has more illogical needle drops than Cruella, some of which are in Italian because why not? – because that goes all over the map, too.
Every performance is hilariously, excessively bad, to the point where there is an actual chance to get drunk with your friends and enjoy them ironically. Just about every actor here – all fine performers – apparently had Tommy Wiseau as their dialect coach (I audibly gasped, "Good God, Jeremy Irons, what is that voice?"), with the notable exception of Jared Leto, who decided to channel Super Mario for half his lines. The costuming and makeup are atrocious, especially when it comes to Leto, who looks like a combination of Jeffrey Tambor and Ron Jeremy. The only part that actually looked interesting was Gaga's transformation into a slightly saner Leona Helmsley by the end.
Literally nothing makes sense in this movie, from the idea that Adam Driver could ever be a nervous bookworm insecure about his own charisma (the dude got to have simulated sex on film with Marion Cotillard, Lady Gaga, and Jodie Comer last year; consider me properly jealous), to Al Pacino's spray tan (his performance should be the dictionary definition of "slumming it"), to invoking Tom Ford like the second coming of fashion Jesus without actually consulting and casting Tom Ford!
Yeah, this is a flop on almost every level. I can see it getting that all too rare cult following where it garners a fan base dedicated to how bad it is, a la The Room or Birdemic, only with much higher budgets and production values. It really is kind of sad, because I remember a noticeable shift in the marketing for this film after The Last Duel underperformed at the box office. You could tell that Ridley Scott's production company saw the writing on the wall and put all of their Oscar eggs in this basket, and what a broken, fucked up basket it was.
Grade: D+
Join the conversation in the comments below! Are you enjoying this year's Oscar Blitz? Did you actually like either of these films? Seriously, can Adam Driver share the wealth a bit, even if it's make-believe? Let me know!