Let's get the main point out of the way first. By rights, this movie shouldn't even exist. As much as we all loved the original Mary Poppins film from 1964, as much as it informed our youths, the author of the books, P.L. Travers utterly hated the adaptation of her source material, to the point that she refused to work with Disney again afterwards, and even wrote it into her will that Walt Disney would never be allowed to touch her characters again. In the years since her death, Disney has since put on a stage musical based on the movie, put out a sanitized biopic about the adaptation process that paints Walt as a saint and Travers as an uncompromising bitch, and now, after lengthy negotiations with her estate, a sequel nobody asked for. To paraphrase the Octoparrot from The Simpsons, "Rawrrk, movie shouldn't be!"
Setting that aside, I will still judge the movie on its merits, as it's gotten plenty of Awards Season buzz. It is shortlisted in three Oscar categories, and if the Golden Globes and SAG nominations are any indication, count on the high potential for nominations for Best Actress, Best Actor/Supporting Actor, and Best Picture among others.
I know I will be in a minority when I say I absolutely hated this film. Part of it is because of the aforementioned reason that it shouldn't even exist. But beyond that, this film brings nothing new to the table. It relies entirely on nostalgia for the previous film to work, and just about everything is derivative of the original. The only things that weren't duplicated from the first movie are the things that should have been, instead being replaced by cheap Hollywood tropes.
Set in 1935, at the height of the Depression, a grownup Michael Banks (Ben Whishaw) still lives in the family home on Cherry Tree Lane with his three children, Annabel (Pixie Davies, which sounds like the name of a glam rock singer), John (Nathaniel Saleh), and Georgie (Joel Dawson). Also inhabiting the house is long-time housekeeper Ellen (Julie Walters, who radiates Molly Weasley in every scene). Michael has recently been widowed, forcing him to abandon his career as an artist and take up a part time teller job at his father's old bank. Sister Jane (Emily Mortimer) lives across town but does everything in her power to help Michael cope with his grief and keep the house afloat. Sadly, it was the late Kate Banks who handled the money, and now Michael faces foreclosure unless he can find the shares in the bank owned by his father George before the arbitrary deadline of Friday at midnight.
As he cleans out the attic, Michael comes across his old mended kite from the first film, along with some of his artwork, and after a brief reminiscence, throws it all out. As the children make their way to the grocer's to negotiate for food, the youngest, Georgie, finds the kite and decides to fly it in the park, where he gets scolded for treading on the grass. A strong wind picks up, Georgie gets dragged through some bushes while still holding the kite. The kite goes into the clouds, and the wind dies down long enough for the other two children, plus the "leary" (cockney term for lamplighter) Jack (Lin-Manuel Miranda) to reel in said kite, now with Mary Poppins (Emily Blunt) attached. She resumes her post as the Banks family nanny, and with that, the mockery can fully ensue.
I'll do a categorical breakdown in a moment, but right from the first 10 minutes you can see the general failure of the movie. Just about everything is a rehash from the first film. The Admiral still fires his cannon every hour. Jack is just a different version of Bert, only with a different job and an even less convincing cockney accent. His mere presence is a nostalgic handwave that he used to be Bert's apprentice. Also, he has a crush on Jane. Even the opening of the film – with Jack riding his bike around town in the morning turning lamps off while he sings the first number, "(Underneath the) Lovely London Sky" – is all just a different version of Bert's opening narration with interludes of "Chim Chim Cher-ee." By the time Mary makes her grand entrance (not because she was called or anything; she just appears), I'm already making box checks about how the classic Simpsons episode, "Simpsoncalifragilisticexpiala(Annoyed Grunt)cious" is more original, and with better music.
This copy/paste motif carries throughout the entire film, and the weirdest part is, the things that were the best about the movie were not revived, in favor of tired clichés. For example, who was the villain of the original film? Trick question, there wasn't one. Sure, various characters spent a moment or two as obstacles or practical antagonists, like Mr. Banks or Mr. Dawes, but none of them were ever actively trying to hurt the family or make them suffer. In this film, we get a typically slimy bank executive played by Colin Firth, who is made up to look suspiciously like George Banks himself. Let's try again. What was the romantic subplot of Mary Poppins? Trick question again! Yes, there were the occasional hints of a flirtatious nature between Bert and Mary, but that's it. Here we have a shoehorned set of awkward meet-cutes between Jane and Jack, complete with some aww shucks moments of self-deprecation because Jack thinks he's too lowly to land a gal like Jane Banks. Because as they say, a spoonful of socioeconomic self-loathing helps the treacle go down!
The one truly new dimension is the tragedy of Kate's death, as the previous film never really dealt with grief or loss. But even then, what could've been explored as a genuine emotional track feels more like tacked on filler while we wait for the obvious solution to present itself. Seriously, not to spoil anything, but the film's MacGuffin hides in plain sight pretty early. Besides, this is a Disney movie, the mom has to be dead! Even in their self-serving biopic, Disney gave a thesis statement that, per the title, Mary wasn't there to save the children, but to save Mr. Banks. Well now there's a genuine opportunity to save the new Mr. Banks, and instead we still spend the whole movie with the children until it's time to deus ex machina the solution, which literally involves finding a way to turn back time. So either the writers really wanted to make a Cher reference, or they were only concerned with digging up the past so much that they had to slap us in the face with metaphor by the end. You pick!
Okay, on to the categories!
Best Actress – Emily Blunt is a natural choice for the role, as she has the same air and mannerisms as Julie Andrews. If there was anyone who could do the character justice, it was her. And as far as things go, she does a decent job. The singing is fine, and she has the same gleam in her eyes as Andrews did. If there's one thing to criticize, it's that she carries this sort of bored aloofness that Andrews never did. What Andrews couched in an attitude of prim and proper posturing, Blunt instead overtly displays in rolled eyes and head cocks. There are times when she looks like she'd rather be doing anything else until the attention comes back on her, but for the most part, she's practically adequate in every way!
Best (Supporting) Actor – Lin-Manuel Miranda was nominated for Best Actor in a Musical/Comedy for the Golden Globes, one of several nominations the film received before it was even screened for critics, much less the general public. I'll hedge here and say there's a chance he could be nominated for Supporting Actor come Oscar time, but the Best Actor field is stacked this year, and really, there's no place for him. He only gets a couple of moments to shine in the film, and there's nothing that would reasonably see him placed as a lead actor. Apart from the shitty accent, he does alright, but it's nothing special.
Original Score – As far as I'm concerned, this film should be disqualified in this category, as almost every lyric song is derivative of the original, and most of the instrumental tracks have callback cues to the first film's score.
Original Song – Two songs from the soundtrack are on the Oscar shortlist. One is "The Place Where Lost Things Go," which is basically a combination of "Stay Awake" and "Feed the Birds," but at least it grants a tiny bit of pathos and acknowledges the children's need to cope with the loss of their mother. "Trip a Little Light Fantastic," the other potential nominee, is a big song and dance number featuring the "learies" doing elaborate choreography with Mary Poppins. If you hear someone in the back yelling, "Step in Time!" don't be confused. Somehow, they are not 100% the same song… barely.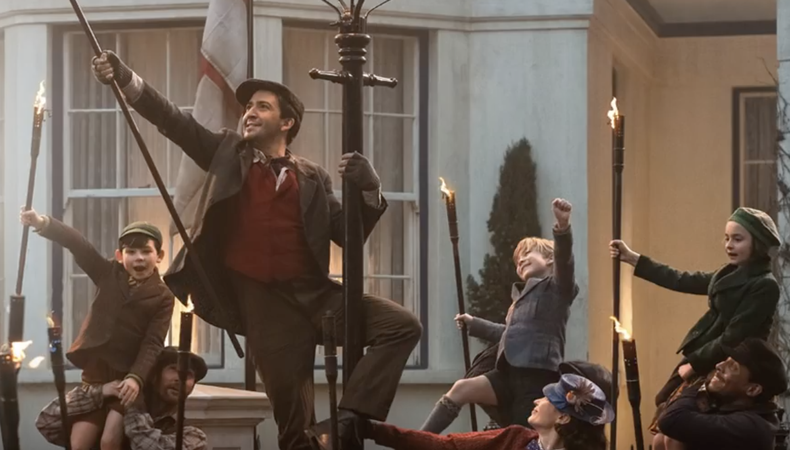 But these two tracks are symptoms of the larger problem In addition to these and the opening being a copy of the original, you have "Can You Imagine That?" which is just a faster-paced take on "A Spoonful of Sugar." Similarly, "Turning Turtle" (complete with gratuitous Meryl Streep cameo – watch her somehow get nominated for Supporting Actress because Academy bylaws stipulate she has to be nominated for something at least every other year) is just "I Love to Laugh," in both theme and set piece. "Nowhere to Go But Up" is another version of "Let's Go Fly a Kite."
A lot of these songs would be fine in a vacuum, but again, we all have ears, eyes, and functioning memories. If there were no previous movie, these might all work wonders. But instead, they're just lazy knockoffs, like my $12 Nigh-Key sneakers. Though to be fair, there was one number that I actually enjoyed, mostly because the presentation put a new spin on the familiar. In the half-animated sequence (this time taking place inside a china bowl instead of a chalk drawing) Miranda gives the audience a bit of "Hamilton" fan service with "The Cover is Not the Book." It is essentially this film's version of "Supercalifragilisticexpialidocious" (including more cartoon penguins!), but instead of upping the tempo on a nonsense word, we instead crank up the speed to let Miranda display his rap skills, and for a brief moment, I was delighted.
Costume Design – Hit and miss for the most part, though I'm sure a lot of people will coo about Mary's default costume, even though it makes her look like Carmen Sandiego cosplayers at ComiCon. The ones I loved were again in the half-animated scenes in the bowl, as Mary, Jack, and the children switch to outfits that look like they were drawn on by animators, but in reality are hard clothes with a cel-shaded aesthetic to them. This alone is worthy of consideration, though perhaps not enough to win.
Visual Effects – In a weird way, I almost wonder if it was a creative choice to make the visuals look as cheap as possible. For example, in "Can You Imagine That?" the children, Mary, and for some reason the Admiral (I guess because it's a bathtime song?) go on an animated underwater adventure. The splicing between the CGI backgrounds and the live action cast looks about as obvious as it did in 1964. In a way I could almost applaud the film for being true to its own source material, but at the same time it's just another way they're trying to recreate the previous magic without trying anything new. Then of course, my mind wanders to the fact that between this scene and the kite dragging him through the park, I half wondered when Pennywise the Clown might show up and eat Georgie! WE ALL FLOAT DOWN HERE!
Best Picture – No! No! No! No! No! No! No! No! No! No! Look, I'm not saying that sequels can't win. It's happened twice before. But those were special situations. The Lord of the Rings: The Return of the King swept the Oscars in 2004 because it was a celebration of the singular achievement Peter Jackson and company had made with the entire trilogy. And The Godfather Part II was such a high quality film that it could have won Best Picture without there being a previous film. It was a truly compelling, character-driven tale with amazing acting and story. The fact that it was a sequel to a previous Best Picture winner was more legacy status than anything else. But I'll tell you this, as sure as I'm sitting here, it never would have won if it ended with a killing spree montage where a hustler named Joe Yellow got shot in the ear! That's what you'd get if this movie got any serious consideration for Best Picture.
This is destined to be the most overrated movie of the year, and it's an absolute shame, because even though it shouldn't exist, Disney was presented with a unique opportunity to bring us a new, original story about beloved characters, picking up 54 years after the original. Instead they just crapped out a lame copy with enough slight differences that we can't call it a remake. This is the Star Trek Into Darkness of the Disney universe. The phrase, "déjà vu" is colloquially used to refer to the uncanny feeling that we've seen or experienced something before. The words themselves translate from French as "already seen." That is what I felt the entire time. I have literally already seen this movie, and I liked it way better the first time.
Grade: D
Join the conversation in the comments below! What film should I review next? What's the most overrated film you've seen this year? What other classic films will Disney ruin for a quick buck? Let me know!