Let me paint you a picture. It's New Year's Eve, literally the last day of 2019, and I've got nothing to do before my roommates host a party that night. Every movie I planned on seeing was in the books, so what was I going to do? There was only one new movie left, and loathe though I was to see it, there was a certain allure.
That being the mystery of just how bad this Cats trainwreck could possibly be!
Seriously, from the moment the first trailers were released, this looked like a ticking time bomb of suck, and the best Tom Hooper could say was that the effects weren't finished yet, so the Uncanny Valley monstrosities we saw would be better in the final product. Turns out, they were even worse. After its flashy premiere, critics and audiences got a look at it, and turned up their hate switches to maximum in an effort to one-up each other with cat puns. "It's like they coughed up a cinematic hairball!" "I hope Tom Hooper has nine lives, because he just lost one here!" "This movie should be spayed and neutered!" It just went on.
So even though the trailer alone was enough to make it the chaff of my Year-End edition of "This Film is Not Yet Watchable," I have to admit to a certain morbid curiosity. I mean, we're talking about a movie where the effects were so hastily done that Universal Studios had to send out a digital patch to theatres after it was released to correct mistakes they didn't catch in assembling the final cut. So even though every instinct in me told me to stay away – hell, I'm literally allergic to actual cats – I steeled myself and faced the music(al).
Five minutes in I regretted it.
Whatever you've heard about how bad this movie is, multiply it by cancer, and you're still not prepared for the vortex of awful that is Cats. In a creative process that basically consisted of taking ALL the drugs, Andrew Lloyd Webber's baffling-yet-beloved stage show has been bastardized beyond belief into 110 minutes of pure nightmare fuel that even Tim Burton would consider too weird.
The core problem is that the actual musical does not lend itself to cinematic adaptation. It's a semi-interactive stage show, where the performers literally get off the set and mingle with the audience. When they're on the stage, it's a single dingy, trash-filled alley with very few accouterments. The plot, such as it is, is just an exposition song about what Jellicle cats are and what the Jellicle Ball is. After seemingly endless songs from each of the candidates about what kind of cat they are, Old Deuteronomy picks the shunned and decrepit Grizabella, who gets to be reborn. That's it.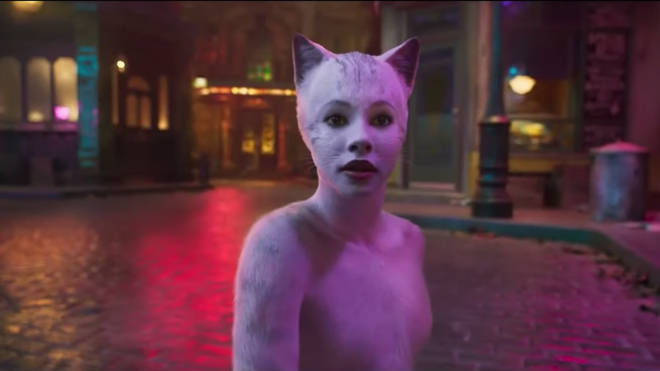 So how in God's name do you make this into a movie? Well, by making every wrong decision possible. Because the cats can't jump off the screen and into the theatre (God help us if they ever make a 3D version), you need a point of view character, so they somehow choose Victoria, played by veteran ballerina Francesca Howard. It almost makes sense, as Victoria is a ballerina in the stage show. But she's also a completely silent character, and here she's not only the focal point and new female lead, she sings in half the songs, conspicuously takes part in every musical number as if she's been there the entire time (even though the opening shows her getting dropped in the alley by a rich, giant human in a luxury car, because, WHY?!?!?!?!?!?!?!), and even though the actress appears mixed race, the character design literally whitewashes her and makes her a "white savior," to say nothing of the tacked-on romance between her and Mr. Mistoffelees (Laurie Davidson), which is just… WHAT?! The film even creates an ambition in her to become a "true" Jellicle, which makes no sense, since they're mostly just a bunch of stray alley cats.
And what about dialogue and story? How are you supposed to make that up when there are practically no spoken lines in the play? Well, that's when you bring in Rebel Wilson and James Corden to derail half the plot with even more cat puns and fat jokes. You also turn Macavity (Idris Elba) into a cartoon supervillain who literally uses magic to kidnap everyone so that he's the only "candidate" for rebirth, and send everyone to a boat where Growltiger (oh God they dragged Ray Winstone into this), a made up cat that was played by Gus (Ian McKellen) IN HIS SONG, is trying to push felines off a plank. WHAT THE HELL AM I WATCHING?!
From the moment Victoria gets dropped off, the entire affair is a visual mess. The sets, which I think were meant to seem creative, are just CGI abominations that are so badly rendered you can actually see the green screen studio at points. Every musical number for the first half of the film takes place on a different set, completely animated and utterly without scale. For Rebel Wilson's Jennyanydots number, we're in a house where the furnishings are kind of scaled appropriately if you presume the standard size of a house cat, but then later we have Skimbleshanks (Steven McRae) leading a line of cats dancing upright on a single rail of a railroad, which would imply they're the size of ants.
And then, of course, there's the design of the cast itself. As soon as Victoria steps out of her sack, my reaction basically echoes that of the school photographer on The Simpsons when Lisa showed her braces:
It's borderline terrifying. They have human faces, but their ears act independently. The tails curl up between their legs, and at several points it looks like they're masturbating. Everyone has human hands with varying degrees of fur rendered on, except for Judi Dench as Old Deuteronomy, who has 100% human hands with her fucking wedding ring on! Some of the cats are barefoot, while some inexplicably wear sneakers. During the Skimbleshanks number, the whole cast magically gets tap shoes! The women have exaggerated human breasts, but the genitalia is completely smoothed out. I'm sure at some point Taylor Swift looked at her character model and hummed, "And if you between my legs, my cavity's NOT THERE!"
Just about every number has some glaring issue that makes you question the very nature of existence, and since I was sitting at a dine-in theatre, they made me constantly ring the wait staff for more and more booze. Here are just a few examples.
Jennyanydots (Wilson) can unzip her fur, revealing a sequined pink vest, which creates this weird depth of field between the garment and her actual chest underneath. The rendering is really off-putting, but again, SHE CAN UNZIP HER OWN FUR! Does that mean she's the Jellicle Buffalo Bill, wearing a suit of all the cats she's killed? It puts the catnip on it's skin. She also commands an army of musical mice and cockroaches, all played by miniaturized CGI humans, and she fucking EATS THEM ALIVE! AND IT'S SUPPOSED TO SEEM PLAYFUL!
James Corden as the gluttonous Bustopher Jones eats a dildo-shaped prawn whole. This is a man who gets offended when you make fun of his weight in the real world, but he had no problem playing a cat that stands on a plank and requires four others on the opposite side to lift him up.
Jason Derulo, for once singing a song that doesn't include his own name, plays Rum Tum Tugger, which I guess is appropriate, because he gets to say that name over and over. He wears a leather jacket. Did some Jellicle Karen order it for him on Etsy? In interviews, he's stated that he's upset his junk got smoothed out in post. That's creepy as hell, but in an understandable way as his number is basically him trying to dry hump the entire cast.
Old Deuteronomy (Dench) wears a fur coat rather than having cat fur. She DEFINITELY murdered cats to wear their skin! The Jellicle Choice doesn't end up with Grizabella being reborn, it's the sweet release of DEATH!
Taylor Swift plays Bumbalurina, one of the main characters in the stage play, who, along with Demeter (Daniela Norman, relegated to the background) warns of Macavity's diabolical skills. Here, she appears only once, for 10 minutes, to sprinkle catnip on the Jellicle Ball – in essence getting everyone high and horny – and sing the "Macavity" song like she's his fucking groupie. Normally I'd be the first one to applaud less Taylor Swift, but given the context, COME ON!
Speaking of the Jellicle Ball, it's essentially one step up from this: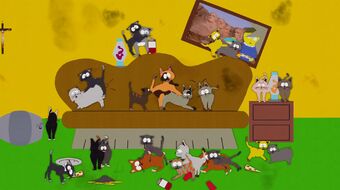 Jesus Christ, Eyes Wide Shut was more subtle. And yet, somehow, the Motion Picture Association saw fit to rate this PG. They saw all of this and came to the conclusion that this drug-addled orgy was appropriate for children. I guess it really is all about swears. If only one of the cats had said "fuck" a couple times, so many kids could have been spared. Maybe the one they forgot to animate around, who you can see in the unpatched version is just a dancer with motion sensor balls on him (I kid you not, and yet somehow this got shortlisted for the Visual Effects Oscar)?
This isn't just bad, it's downright offensive. Admittedly, I'm not a fan of the stage show. I saw it as a teenager and wondered aloud how many drugs I'd need to fully enjoy it (my mom loves it). The costumes are weird, most of the songs make no sense, and Rumpleteaser sounds like a brand of ornate butt plug.
But there are some things to like. While many of the songs are nonsensical, "Memory" is objectively one of the greatest showtunes ever written, and it could easily be slotted into just about any musical out there and it would still work. Stick it in the middle of Oklahoma or Bye Bye Birdie and it still makes perfect sense. So I was genuinely looking forward to the idea of Jennifer Hudson playing Grizabella so she could sing it and maybe just maybe redeem this dumpster fire (some of the dumpsters in the film are literally on fire, just for good measure). But no, even a perfectly good moment had to be fucked with, as both times she performs it gets interrupted by Victoria and Old Deuteronomy performing the God-awful "Beautiful Ghosts," the original song they shoehorned in to try to win an Oscar (spoiler alert, it didn't even make the shortlist).
This is studio hubris at its worst. Compare this to the upcoming Sonic the Hedgehog movie. When we first saw that trailer, audiences raised a ruckus on just the character design of Sonic alone. That was enough for the producers to say, "You know what? Okay, we fucked this up. We're pushing back the release, and we're going to spend the time and money necessary to get this right." It comes out next month, and while I'm not expecting Best Picture quality, I'll at least shell out the cash in appreciation for them taking our concerns to heart.
With Cats, on the other hand, not only did they double-down on the surreal shitfest they were putting together, they ended up rushing the process to put out the film before it was even finished, and even bought a Golden Globe nomination even though it missed the deadline to be screened. And even after it came out, it still wasn't done, yet they acted like audiences and critics weren't being fair to it when they voiced their opinions yet again.
Tom Hooper better be thanking whatever God he believes in that we live in an era where you get second chances. Even as recently as the 1980s, when the Cats musical opened on Broadway, a film this bad would have ended his career. It wouldn't matter that he directed a Best Picture winner (The King's Speech) or any number of other acclaimed films, including musicals (2012 version of Les Misérables). He would be scrounging for straight-to-video Steven Seagal films after this if it came out back then.
I'm not saying this would have suddenly become a masterpiece if they went back to the drawing board. Hell, from sheer logic and knowledge of the stage show I wouldn't have even greenlit this boondoggle. But Universal and Tom Hooper had to know there was no way this was going to be celebrated as some grand cinematic achievement, so why not just cut your losses, go back and fix the problems, and just put the film out without any hype once it was actually done? It's not like the result could have been any worse than what actually occurred, right?
Because I'm sorry, but I've literally seen unemptied litter boxes that were less shitty than this. Hey, I finally worked in my own cat pun!
Seriously I hope everyone involved in this gets FIP.
There was one moment that gave me some hope for the future, though, because after the nearly traumatic experience of this film, I do want to end on something positive. Sitting in front of me were a mother and her two daughters. The youngest one couldn't have been more than four, and she was wearing an Elsa dress. My guess is she was hoping to see Frozen II again. I'm sorry she didn't get to. But the other was closer to seven or eight. As the house lights came up and the credits rolled, she stood up and faced her mother.
"Mommy, I really love Cats. But this was crap."
Me (internally): Look, a new day, has begun!
Grade: FFFFFFFFFFFFFFFFFFFFFFFFFFFFFFFFFFFFFFFFFFFFFFFFFFFFUCK THIS MOVIE!
Join the conversation in the comments below! What film should I review next? Who could have possibly thought this movie was a good idea? How is Rebel Wilson rubbing herself not against the Geneva Conventions as a form of torture? Let me know!