As a preface for this review of Martin McDonagh's fourth feature, The Banshees of Inisherin, I'd like to share a brief anecdote from my teenage years. The summer after eighth grade, my family moved from suburban Delaware to rural upstate New York, the starting and ending points being two towns with the same name – Newark (though pronounced differently in each locale). I saw the relocation as an opportunity for a complete blank slate restart. I was in a new environment, I was going to make new friends, and starting high school, I decided that I was going to start growing up and acting more mature. I even "changed" my name, as I had always been Billy up until that point, but from then on I was Bill.
I put my best foot forward, and did what I could, within my relatively introverted nature (several years of bullying made me default to caution and shyness), to try to build a social circle. I thought I was doing pretty well for myself for the first couple of months. But around Halloween of my freshman year I found out both directly and indirectly that I was sorely mistaken. A girl I had a crush on lived along my walking route to school, so I got into a habit of stopping by her house each morning to greet her and walk with her the rest of the way. I learned through a classmate that I was annoying the ever-loving crap out of her by doing so. About the same time, I was hanging out in the library with some other kids, and in my attempt to be more worldly (for a 14-year-old), I brought up something I saw on the evening news the night before, to which another responded, "Do you ever say anything interesting?"
Now, thankfully, I can count both of those people as friends all these years later, but in the moment, those were some truth bombs I was not prepared for. I was stopped dead in my tracks and had to reevaluate my entire strategy when it came to interpersonal relations. The last thing I wanted was to become a pariah like I was in my old district, and in such a small town, where everyone knows everyone, if I didn't get my act together, the next four years (or more) were bound to be miserable.
I learned a tough lesson back then that much of the world isn't interested in my opinions or input, and it's one that I've had to remind myself of at various points of my life ever since. It's part of the reason why I don't make a point of soliciting likes or followers between this blog and my YouTube channel. If people come across what I have to say and they like it, I'm happy for them to join the conversation, whether they agree with me or not, but I've made a point not to force my company on anyone who doesn't want it. It's too much aggravation for all involved, and rarely does it end up being a positive experience.
That formative moment lingered constantly in my head watching The Banshees of Inisherin, which may be McDonagh's finest work since his debut with In Bruges. Reuniting that masterpiece's stars – Colin Farrell and Brendan Gleeson – McDonagh, who is arguably the finest screenwriter working today, crafts a gorgeously bleak exercise in isolated melancholy, taking the idea of aimless conversation to some extreme and darkly comedic places in the process.
Set 100 years ago during the Irish Civil War, the fictional island of Inisherin looks like a pastoral paradise when viewed from above, but when you come down to sea level, it reveals itself as a paragon of stagnation. Nearly everyone is pleasant, leading simple, inoffensive country lives, but every time someone looks to the coast, you can see just how detached they are from the rest of society, even by the standards of 1920s Ireland. It is in this calm rut that we find Pádraic Súilleabháin (Farrell), who runs a small dairy, sharing a one-room house with his bookish sister Siobhán (Kerry Condon). As part of his daily routine, Pádraic drops by the home of his friend, Colm (Gleeson), and every afternoon they head down to the local pub for a drink and a chat.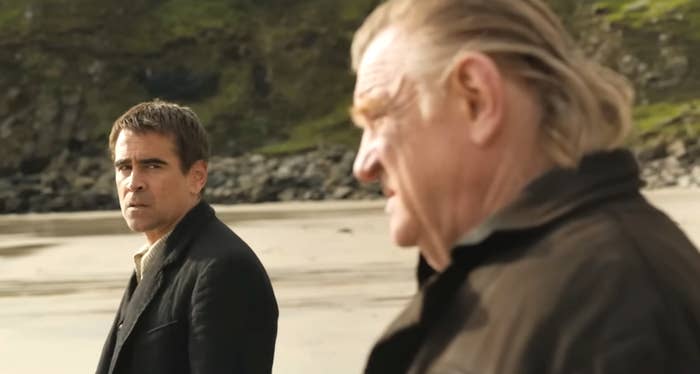 As this film begins, however, Colm doesn't answer the door. Confused, Pádraic gets his pint alone. When he goes back to look for Colm, his pal has taken an alternate path and made it to the pub on his own. An awkward bit of positioning ensues, with Colm opting to take his drink outside. Deeply irritated, Pádraic follows him to apologize for whatever he may have done to offend Colm, especially if it was something he did while drunk that he doesn't remember.
Resigned to telling the truth, Colm admits that Pádraic hasn't done anything wrong. He simply doesn't want to associate anymore. They were friends the day before, but in Colm's mind, they're not friends anymore. Pádraic is understandably confounded, but feels relieved when he sees the calendar, realizing that it's April 1st, and Colm must have been playing an elaborate April Fool's joke. The next day, however, nothing's changed, and Colm is even more adamant that he doesn't want anything to do with Pádraic. Pushed on the issue, Colm explains that he finds Pádraic to be incredibly dull. Every day they have the same boring talks about the same boring things, and like Marie Kondo to come decades down the road, he's decided to declutter his life of all things that do not spark joy. He simply wants to relax, focus on writing music (Carter Burwell provides an excellent minimalist score to complement Colm's Irish fiddle songs), and live out the rest of his years trying to make something that people will remember.
Pádraic refuses to accept that his best friend would just cut him off like that, so he continues to pester and confront Colm in hopes of a reconciliation, or at least an explanation he can understand. Finally, Colm has had enough, and presents an ultimatum. If Pádraic doesn't leave him alone but good, he'll take a pair of sheers and cut off one of his fingers for every time he's bothered, and he will give that finger to Pádraic as proof. That's how serious Colm is. He's willing to mutilate himself just to be spared the pain of Pádraic's company any further.
It's an insane, extreme stance to take, but McDonagh goes out of his way to have it make some sort of twisted sense. He expertly conveys the drudgery of provincial life through his characters and script. Several of the town's denizens, all of whom gossip to one another as if it's actual news, repeat the same bits of dialogue over and over. This was an infuriating aspect of Amsterdam a few weeks ago, because it served no purpose to that film's plot. Here, though, it's a direct and constant demonstration of how little Inisherin as a community has going on. Even when someone has business clear on the other end of the island, everyone knows what's going on with everyone else. Pádraic bears the unfortunate brunt of Colm's ire most likely because he was closest with him before the breaking point, and as such Colm has been exposed to his limited scope and intellect more than anyone else's. But that doesn't mean there's a shortage of arrested development in the town, from the barkeep brothers who echo one another's lines, to the witchy widow Mrs. O'Riordan (Bríd Ní Neachtain) who needles people's insecurities and ominously predicts their deaths, to Pádraic's only other friend Dominic (Barry Keoghan), a good-hearted idiot fuckup who carries a torch for Siobhán.
Because of the way that McDonagh builds his world, you can see where both Pádraic and Colm are coming from. Pádraic is certainly a dullard, but as he points out, he's a nice dullard, and there's a place in the world for basic human decency. That's just not enough for Colm, who, like many people of a certain age, craves a legacy, especially in such a small area where any meaningful contribution would hold weight after he's gone. One side is distraught over a change in his status quo, while another is desperate for anything different to happen. Neither one is inherently wrong in their motivations, but both are completely off the rails in their methods, and the delicious irony is that, deep down, both men want the exact same thing, to be acknowledged. That's what makes this film so compelling. The fact that the screenplay features some of the best dark humor that McDonagh has yet written (and that is saying something), and that Farrell and Gleeson have such a strong personal and professional rapport that their interplay here feels 100% natural and lived-in, only sweetens the pot.
While the film has its flaws, particularly in the edit, it absolutely shines because of its morbidly farcical premise, which McDonagh refuses to shy away from. There's a tension in the escalation that is objectively batshit crazy, but Farrell and Gleeson constantly sell it without ever drifting into the absurd. Neither gives an inch as one side is constantly dealt emotional harm while the other threatens physical harm in a way that would traumatize them both. Meanwhile, the answer to either one's problems is ever present, as they can simply leave the other alone, or leave Inisherin entirely, to expose themselves to a wider world. The beauty of McDonagh's latest opus is in showing how far someone is willing to go in order to be stuck in their own ways.
Grade: A
Join the conversation in the comments below! What film should I review next? Have you ever been to Ireland and seen just how beautiful it is? What was the hardest truth you had to face growing up? Let me know!