Let me tell you about a fun little aspect of my existence. As a lifelong Trekkie/Trekker, part of my fandom includes belonging to a Facebook group called "Star Trek Shitposting." It is exactly what it sounds like. We (there's about 95,000 of us currently) fuck about, posting memes and jokes related to Star Trek and its various spinoffs and properties, generally giving each other a good laugh along with occasional wholesomeness and canonical debate. I've been in the group (or "gronp" as we affectionately misspell it) for about three years now, and it always brings a smile to my face when someone comes up with a good joke. One of the running gags we like to do is to take a popular meme and repurpose it with a Trek spin (the "Drake Hotline Bling" meme is replaced with Geordi LaForge for example). My personal favorite is our version of the "Doge" meme where one dog bops another with a bat and sends them to "Horny Jail." We call it, "Horny Brig" (for starships, you see), and typically the memes involve Jonathan Frakes as Will Riker or the animated cast of Lower Decks.
That meme was basically all that was running through my head as I watched the latest film from Neil Burger (Limitless, The Illusionist, Divergent) called Voyagers. That it was a sci-fi movie with a top notch young cast and the name of a Trek spinoff got me in the door. But instead of being remotely close to something Trek-adjacent, Burger tried to go for something more akin to Lord of the Flies in Space, and ended up with a bunch of brooding teens who need to get bonked and sent to the Horny Brig. Set in a quasi-dystopian future, there was a chance at something profound here, but in the end it just felt like a lazy Young Adult adaptation.
About 45 years into the future, the Earth is becoming uninhabitable, so NASA finds an exoplanet and wants to send a scouting mission for colonization. This of course already begs the core objection that people like Bill Nye and Neil deGrasse Tyson had with Interstellar a few years ago, which is, "In what universe is it more feasible and cost-effective to find another planet than to just fix our own?" And just like Interstellar, that obvious issue is never even mentioned, much less addressed. Anyway, the one-way journey to this new planet will take about 85 years, so rather than conscript a crew of trained astronauts who understand the risks but might "miss home" too much, the government decides to breed 30 children in a lab and teach them in isolation before sending them into space, with the understanding that they'd reproduce at a certain point, and their grandchildren would be the ones to make it to the new world. After about two scenes of parental bonding with the kids, head scientist Richard (Colin Farrell), insists on going as well, to mentor and protect them, as there's nothing keeping him on Earth anyway. Okay, then.
Now, you would think that by growing these children in a lab and instructing them completely in private, all lined up on tables like the clones of Jango Fett, that they would be given as complete an education as possible, including the basic knowledge of how their bodies work. You know, for when they hit puberty and might notice some changes? But nope, after all those years of planning and social engineering, they decide to go with easily traceable drugs to suppress their hormones and make them docile. Why, teenagers would never become hostile to a lifetime of lies, would they? Of course not. What kind of bullshit science are you trying to push on us, society?
So about 10 years into the mission, when these fresh young minds are at peak physical condition and attractiveness, one of the kids, named Christopher (Tye Sheridan from Ready Player One) discovers the drug along with his friend, Zac (Fionn Whitehead of Dunkirk fame), so they decide to stop taking it, allowing them to experience new and exciting emotions, like the sensation of being shocked by exposed wires, which I'm guessing is the 2075 version of the Tide Pod Challenge. Every time they forego their "Blue" drink, they experience a video montage straight out of Requiem for a Dream's heroin scenes to symbolize their expanded horizons. It also makes them terribly "thirsty," and both are attracted to their chief medical teenager, Sela, played by Lily Rose-Depp. But you see, Christopher is good, and only lightly brushes Sela's hand with his finger to feel the sensation of human contact, because he respects the ship rule against grabbing and touching people against their will. Zac, on the other hand, goes straight in for touching her face and grabbing her tits faster than you can say, "Affirmative consent, bro!" I mean, it's not like his villain turn is all that surprising. It's a YA-style story, he's got slicked back hair, and his name is fucking Zac. Of course he's evil and rapacious.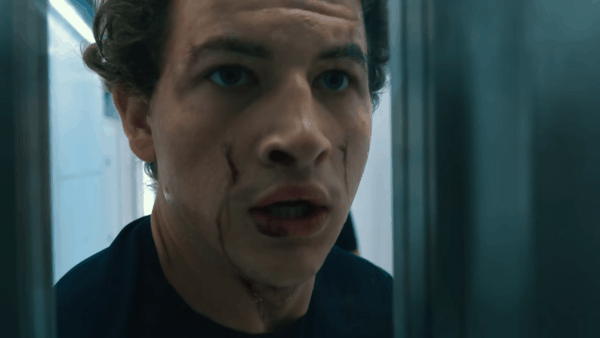 Christopher confronts Richard about the drugs, and Richard is understanding, telling his de facto son that it was part of the mission parameters, but he's sent messages back to Earth requesting permission to stop the treatments and let the kids develop naturally. Before that can happen, though, a strange accident occurs during a repair coinciding with mysterious grinding noises on the ship, and before you can blink, a power struggle erupts between Christopher and Zac.
This is the lazy Lord of the Flies stuff I'm talking about. Two factions immediately form, with Christopher as the ship's version of Ralph, happy for their collective freedom, but still responsible, organized, and civilized. Meanwhile, Zac is Jack, an anarchist who quickly gives in to his more animalistic instincts, and who even tries to control the food supply. There's even a quasi-Piggy in the form of Phoebe (Chanté Adams from Roxanne Roxanne), who is the most socially awkward of the group and occasionally trips, leading everyone to mock her as a genetic defect and yell at her to shut up every time she tries to be the voice of reason. Other crew roles include Viveik Kalra (Blinded by the Light) as the optimistic Peter, Quintessa Swindell (Netflix's Trinkets) as the mercurially horny Julie, Archie Madekwe (Simon from Midsommar) as Zac's Number Two Kal, and Isaac Hempstead Wright (King Bran the Broken) as technician Edward. They all fill in some analog role to William Golding's classic novel, while the rest of the cast is so generic that their character names are just the actors' real first names.
The core issue here is that the film expects us to believe all the pseudo-science and technobabble with their mission but dismiss the obvious mistakes that would have made a mission like this utterly impossible. And they do it all in service of some space fucking (PG-13 of course, so the poster has more nudity than anything in the actual movie) when even that bit was handled way better by High Life two years ago! Why raise socially-engineered kids without genetically engineering them to not need drugs to suppress their urges? Or if not that, why not just give them basic sex ed? Why even use kids? Of all people astronauts know the risks of space travel, and I guarantee you that you could find 30 some odd people willing to take this one-way journey. Hell, just a few years ago there were thousands of volunteers for a scam contest to be the first to colonize Mars, and you're telling me that highly-trained astronauts and scientists would get too homesick to do the job properly? The fuck outta here! Why would you spend so much time, energy, money, and resources on this half-baked idea instead of trained, dedicated scientists (who incidentally have already gone through puberty and can separate work and survival from fucking)? Because you think it's the scientists who are somehow not reliable? And teenagers can be, so long as you dope them up real good? The hell are you thinking?
There are some interesting concepts and visuals on display here, but the film is so aggressively average that it never bothers to take a chance and show us something new. There are some action sequences aboard the ship that can be exciting, or they would be if we had any idea of the dimensions in and out of the ship itself. Unfortunately, being in deep space, all the exterior scenes are basically black nothingness with a few light bulbs, and inside Burger was more concerned about getting a cool infinity shot on one of the corridors than in having it mean anything.
But most importantly, there are moments when the film scratches the surface of exploring the truly rich concept they have here. Once the kids stop taking the "Blue," they become rebellious and sometimes fatalistic about their mission, because ostensibly they'll never see the planet they're travelling to, and they never had a home life on Earth, either. That would have been really interesting to dig into, because the moral, ethical, and psychological implications of such an undertaking are just begging to be pored over, especially when it's all put upon children who had no say in the matter at hand. It's enough to drive everyone into an existential frenzy. But rather than delve into such muddy waters, every time it looks like we might strike the iron, it's just waved off with someone saying, "We're gonna die anyway, so what's the point?" like a child insisting that his goth look isn't "just a phase."
And that's where this film loses me. There are really intriguing ideas here that are ripe for development in the right hands. This could have been an amazing sci-fi adventure if Burger had any inclination to make it so (Picard pun intended). Instead, all we got was some decent special effects in service of whiny babies pissing in the non-existent wind so they can drink, fight, and fuck in a world with no rules. We could have had an epic adventure and a statement on the limits of scientific exploration and exploitation. Instead we got a 100-minute shitpost, and not the fun kind.
Grade: C
Join the conversation in the comments below! What film should I review next? Do you shitpost your personal fandom? Should Robert Pattinson have been in this movie to show these kids that there is something to look forward to after the YA years are over? Let me know!